You can see the eBook PDF-version of this guide here.
1. Introduction
Many veteran journalists, but not only these, surely noticed that we are all of a sudden bombarded again from all-over with mentions of Watergate. Books like George Orwell's 1984 are on display at bookstores and an air of danger to freedom of speech and freedom of the press is spreading slowly like a dark cloud over the Western Hemisphere, raising old fears.
When an American serving president accuses a former president of surveillance; when he prevents central US media outlets access – so far always granted, and taken for granted – to press conferences he holds; and when he incessantly knocks and accuses the media of being the country's enemy number one, it isn't surprising that memories of President Nixon surface up more with every self-pitying tweet about SNL, and that even Republican Senators such as John McCain express fear for the future of democracy.
And McCain is not alone. Many journalists whom I have spoken with recently, expressed concern for whatever lays ahead for the freedom of the press. At a time when it's possible to express the following statement – "Donald Trump controls the NSA" – and not be held a liar, anything's possible. Add that to the fact that recent news on CIA taught us that almost all encryption systems can be compromised, if someone has the perseverance to crack them – and you are en route to envisioning an utterly Dystopian world, where you cannot even get too comfortable laying on your sofa, in front of your own smart TV.
The good news is that it is nevertheless possible to make it difficult for anyone to try and intercept your emails, the text messages you're sending or your phone calls. You can take measures to make the lives of those who want to uncover your sources and the information being revealed to you, much harder. Of course, the degree of effort you're prepared to take to protect your privacy, your sources' anonymity and your data's safety, should be commensurate to the likelihood of a real threat, be that hacking or spying.
"The old-fashioned promises – I'm not going to reveal my source's identity or give up my notes – are kind of empty if you're not taking steps to protect your information digitally", says Barton Gellman of the Washington Post, whose source, former NSA contractor Edward Snowden, helped uncover the scope of the NSA's and British GCHQ's operations, to his interviewer Tony Loci. Loci herself, who covered American judicial system for AP, The Washington Post and USA Today, and was herself held in contempt of court for refusing to identify sources, would probably endorse that.
So, what is it that needs to be done to ensure that a journalist's sources and data are secure and well? Grosso modo, the tips can be described as falling within the following categories:
Securing on-device applications and functions- This is known as reducing the "attack surface", i.e. limiting the installed apps to the bare minimum, installing only from trusted sources, selecting apps that require minimal rights, keeping the system fully patched and updated, and having as many security controls (based on recent best-practices white papers) on the device.
Isolating your devices and/or their environment– For example, the physical insulation of a computer for the purpose of checking files, or the use of prepaid mobile devices.
Acting cautiously both in the digital and real world- This has a lot to do with common sense and a little less to do with software: For example, never write down the name of the source, certainly not on any app or on any document that's stored on your computer – and most certainly not on anything stored on the cloud.
2. Communicating with your source and
safeguarding the sensitive data
Let's begin by listing what you can do when it comes to communicating with a source, and storing sensitive information obtained thereof:
4.
Securing your email
How should you protect your e-mail? The problem with maintaining the confidentiality of emails is even tougher: Google and Microsoft will most likely just give out your emails to government agencies if and when required to do so. What should you do?
Safe extensions: The simplest option, assuming you use common Web mail services such as Yahoo and Google, is to install the browser plugin Mailvelope, and make sure that the person on the receiving end does too. This extension simply encrypts (and decrypts) the e-mail. A similar but limited extension to Gmail called SecureGmail will perform a similar job. Emails that go through this extension are encrypted, and can't be decrypted by Google. Another possibility is "Encrypted Communication", which is a simple to use Firefox extension. For that you will need a password that the recipient has access to – but remember to never transmit the password by email.
Secure email providers: Hushmail is an example of an email service that provides better security than the more common networks you use, but it may be forced to hand over emails to the US government under a court order, and it does log IP addresses. Another email service with similar features and security levels is Kolab Now, which prides itself amongst other things with storing data exclusively in Switzerland.
Disposable Email Addresses (DEA's): This is an email created ad hoc for a specific purpose, which is completely anonymous and is deleted immediately after use. This solution, commonly used when signing up for various services in order to avoid spam, is also a great solution for maintaining anonymity. However I wouldn't advise journalists to communicate with their sources over it, because security is not its strongest trait. There are dozens of such temporary emails, but the British Guardian, for example, recommended Guerrilla Mail and Mailinator.Using Guerrilla Mail in the Tor Browser ensures that not even they can connect your IP with your email address. Likewise, if you use email encryption software, such as GnuPG, on Tor, you're all set and secure. So, let's talk a bit about email encryption.
Encrypting your mail: Wired got this recommendation from Micah Lee, a privacy-focused technologist who worked with the EFF and First Look Media

(

here is an interview Lee held with Edward Snowden): Encrypting messages with webmail can be tough. It often requires the user to copy and paste messages into text windows and then use PGP to scramble and unscramble them (PGP – Pretty Good Privacy – is an encryption program that provides cryptographic privacy and authentication for data communication). That is why Lee suggests a different email setup, using a privacy-focused email host like Riseup.net, the Mozilla email app Thunderbird, the encryption plugin Enigmail, and another plugin called TorBirdy that routes its messages through Tor.As Reid pointed out in his interview with Kamphuis on journalism.co.uk, Greenwald almost lost the NSA story because he initially ignored Snowden's instructions on email encryption. In other words, if you want a story that will go down in history it makes sense to be secure. Kamphuis agrees that PGP can be trusted. As he and Reid explain, with PGP encryption, you have a public key, like your public phone number, and a private key. The public key can go on Twitter biographies, business cards, websites and wherever else your work is publicized, but the private key must be stored securely, as with any other sensitive information. Then, when a source wants to send information, they will use your public key to encrypt their email, that only your private key can unlock.Kamphuis recommended the GNU Privacy Guard, an open-source version of PGP, that is simple to set up and has an active support community. For encrypting files, data and hard drives, he suggested consulting his free eBook, "Information security for journalists", published with Silkie Carlo and released through the CIJ, which fully explains the process.If you do choose to encrypt the message itself regardless of your mail provider's identity, using zip with a password is a good idea, and 7ZIP is a recommended tool for accomplishing that.
Back to basics: Yes, I know that this is back to email security 101 – but please try to avoid phishing. Watch the "from" field in your email for little misspellings; someone else can pose as somebody you know.And one last word on email encryption: One of the real problems to bear in mind is that even after encrypting them, not everything is encrypted. The email addresses of the sender and recipient, the subject line and the time and date when the email was sent, are all out on the open. Attachments and the message itself are the only data that is encrypted.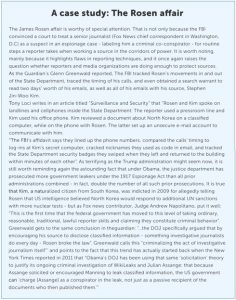 5.
Final words
These are perhaps the most radical pieces of advice I ran through, when preparing this eBook.
As Micah Lee put it when interviewed on privacy on WIRED: "If your computer gets hacked, the game is over. Creating a virtual sandbox around your online communications is a good way to keep the rest of your system protected. Tor is awesome and can make you anonymous. But if your endpoint gets compromised, your anonymity is compromised too. If you really need to be anonymous, you also need to be really secure".
And Journalist Tony Loci puts it in even harsher words in an article published in an eBook about the future of cross border investigative journalism for the Nieman foundation at Harvard: "Some journalists, computer scientists and privacy advocates are so alarmed that they recommend reporters go old school… and rely on in-person interviews and snail mail".
I hope I have helped people in the trade, and others, gather some information that will clarify what needs and can be done to ensure your and your source's security in these hectic times.
6. List of Sources for This Book
Security for journalists: How to keep your sources and your information safe
http://www.ire.org/blog/car-conference-blog/2016/03/12/security-journalists-how-keep-your-sources-and-you/
Securing data, sources and yourself
http://www.ire.org/blog/car-conference-blog/2017/03/05/securing-data-sources-and-yourself/
Surveillance and Security: Are reporters and news organizations doing enough to protect sources?
http://niemanreports.org/articles/surveillance-and-security/
Muckraking Goes Global: The Future of Cross-Border Investigative Journalism
http://niemanreports.org/books/muckraking-goes-global-the-future-of-cross-border-investigative-journalism/
The Ultimate Guide for Online Privacy
https://www.vpnmentor.com/blog/ultimate-guide-online-privacy/
https://www.lifewire.com/what-is-a-dns-cache-817514
How to Anonymize Everything You Do Online
https://www.wired.com/2014/06/be-anonymous-online/
19 ways to stay anonymous and protect your online privacy
https://www.extremetech.com/internet/180485-the-ultimate-guide-to-staying-anonymous-and-protecting-your-privacy-online
Edward Snowden explains how to reclaim your privacy
https://theintercept.com/2015/11/12/edward-snowden-explains-how-to-reclaim-your-privacy/
Information security for journalists: staying secure online
https://www.journalism.co.uk/news/information-security-for-journalists-/s2/a562525/
NSA targets the privacy-conscious
http://files.gendo.nl/presentaties/CIJ_Infosec&countersurv_4-07-2014.pdf
Obama DOJ formally accuses journalist in leak case of committing crimes
https://www.theguardian.com/commentisfree/2013/may/20/obama-doj-james-rosen-criminality
Your WhatsApp secrets are safe now. But Big Brother is still watching you…
https://www.theguardian.com/commentisfree/2016/apr/10/whatsapp-encryption-billion-users-data-security
Obama Pursuing Leakers Sends Warning to Whistle-Blowers
http://www.bloomberg.com/news/2012-10-18/obama-pursuing-leakers-sends-warning-to-whistle-blowers.html
6 encryption mistakes that lead to data breaches
https://www.crypteron.com/blog/the-real-problem-with-encryption/?gclid=Cj0KEQiA9P7FBRCtoO33_LGUtPQBEiQAU_tBgDgBzD9wIXv94vwhj3qwhc6ewEYY
eyjIeiXtMQiwF3caAsFn8P8HAQ
Other resource that might be helpfull: