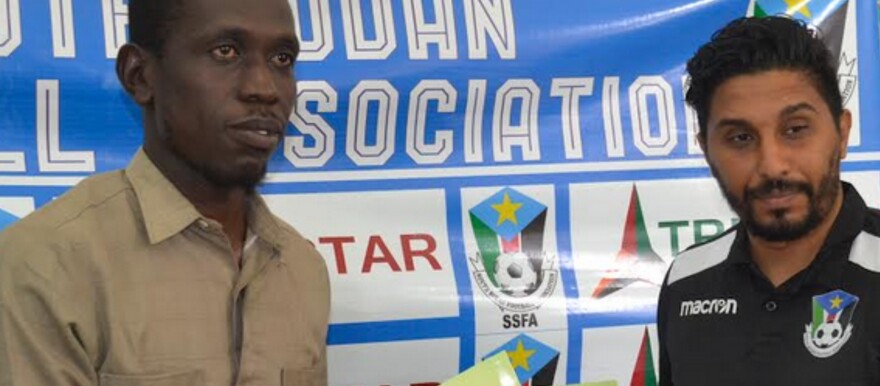 Michael Daniel Morgan, SSFA chairperson of the National Teams Committee (L) and new women's head coach Sidi Mohamed Karoune (R) (Photo: Radio Tamazuj)
Moroccan national Sidi Mohamed Karoune has been named the new head coach of South Sudan's women's football team, according to the South Sudan Football Association (SSFA).
Karoune replaces South African coach Ms. Shilene Booysen who had served since 2021.
At a press conference held at the SSFA headquarters in Juba on Monday, Michael Daniel Morgan, SSFA chairperson of the National Teams Committee unveiled the signing of a two-year contract with Karoune as the new head coach for the Bright Starlets, adding that his appointment is a significant step toward the development of women's football in the country.
"We are very optimistic to have signed Sidi Mohamed," Morgan said. "We will gain enormously from his experience as a coach."
Karoune's two-year contract also carries the possibility of extension subject to agreement on both sides.
Morgan revealed that the decision to sign Karoune was based on the enormous development Moroccan football has achieved at the continental level, adding that he will also work as a technical coach for all women's national teams at different levels and age groups in the country.
Sidi Mohamed Karoune, the new coach expressed his enthusiasm about his appointment, promising to do his best to take the team to new heights.
Presently, South Sudan's women's team is in Cairo for a two-legged match against Egypt in the first round of the Women's Africa Cup of Nations Qualification.
Source http://www.bing.com/news/apiclick.aspx?ref=FexRss&aid=&tid=650967d331a14019b0428292f332f673&url=https%3A%2F%2Fradiotamazuj.org%2Fen%2Fnews%2Farticle%2Fssfa-signs-moroccan-karoune-as-new-womens-football-coach&c=2675093528845570282&mkt=en-ca