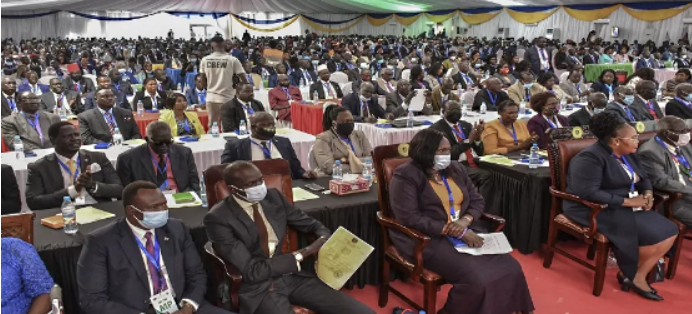 Legislators at a past session in the Freedom Hall in Juba. (File photo)
A lawmaker in the Transitional National Legislative Assembly (TNLA) on Monday called for a review of the Interpretation of Laws and General Provisions Act 2006 to be in line with the Interim Constitution of South Sudan 2011.
During a regular sitting of the TNLA chaired by Speaker Jemma Nunu Kumba, Gabriel Guot Guot, a parliamentarian from the Other Political Parties (OPP) representing Northern Bahr El Ghazal State, said the Interpretation of Laws and the General Provision Act 2006 was enacted by the Southern Sudan Legislative Assembly in 2006 before the independence of South Sudan in 2011.
"This law was enacted in 2006 by then Southern Sudan Legislative Assembly based on the provisions of the article of the Interim Constitution of Southern Sudan 2005," he said. "Because of the importance of this act, it still exists now and we are basing our interpretation of laws on it, including the appointments but the act has the provisions that are incompatible with the Interim Constitution of the Republic of South Sudan 2011 as amended. Particularly one point is Section 4 which talks about the definition in the act."
"Is the Interpretation of Laws and General Provisions Act 2006 under consideration for amendment by the justice ministry?" Guot asked.
Responding to the question, Joseph Malek Arop, the Deputy Minister of Justice and Constitutional Affairs, said his ministry is concentrating on laws that are relevant to the implementation of the peace agreement.
He stressed that the Interpretation of the Laws and General Provision Act 2006 is the work of the Law Review Commission which is yet to be reconstituted.
"As the ministry of Justice, we have a lot of important bills and acts that have not been amended because the ministry is concentrating on laws or legislations that is meant for the implementation of the agreement's chapters 5 and 6 and other legislations related to the agreement," he explained. "The Interpretation of Laws and General Provision Act is supposed to be made by the Law Review Commission which has not yet been reconstituted. There are a lot of laws that need to be reviewed and one of them is the Traffic Act."
Source http://www.bing.com/news/apiclick.aspx?ref=FexRss&aid=&tid=650967d331a14019b0428292f332f673&url=https%3A%2F%2Fradiotamazuj.org%2Fen%2Fnews%2Farticle%2Flawmaker-calls-for-review-of-interpretation-of-laws-act-2006&c=14299697989017940324&mkt=en-ca