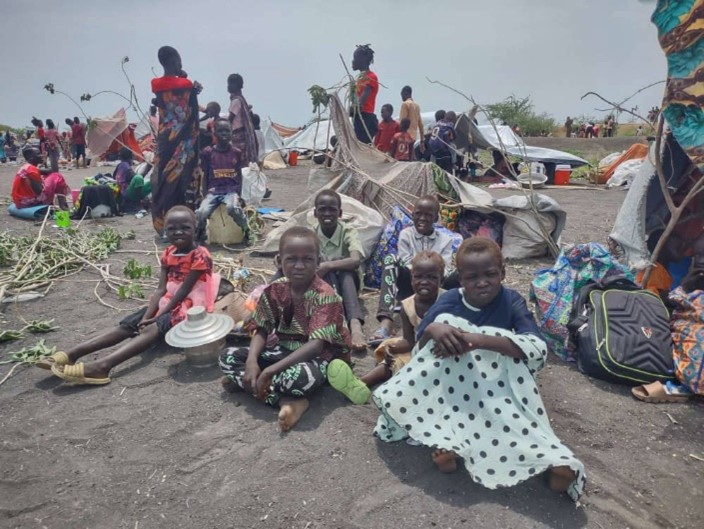 (populationmatters.org)
Imagine a scenario where a crisis unfolds in one place, yet its effects ripple through nearby regions. The ongoing Sudan crisis, which erupted in April 2023 and shows no signs of relenting, exemplifies this phenomenon. Our Empower to Plan Programme Coordinator, Shweta Shirodkar explores the far-reaching consequences of the Sudanese crisis on South Sudan, where we recently launched our new Empower to Plan project.
On April 15, 2023, violent clashes erupted between the Sudanese Armed Forces (SAF) and the paramilitary Rapid Support Forces (RSF). This power struggle between two military factions has led to a significant loss of life and mass displacement. The country is on the edge of collapse, facing a combination of crises that are unlike anything seen before.
Sudan grapples with political uncertainty, weak social structures, corruption, limited institutional capacity, and recurrent armed conflicts, making it the 7th most fragile country globally according to the Fragile State Index 2023.
Amplifying existing crises
Diving deeper into the consequences – Sudan is home to Africa's second-largest refugee population and over 3.8 million internally displaced people. Poverty and unemployment rates are staggering at 66.1% and 20.6%, respectively, based on 2022 data from the African Development Bank Group. The nation faces significant healthcare challenges and struggles to achieve universal basic education. These issues stem from the prevailing political instability in and around Sudan.
Given the pivotal role of agriculture in its economy, the escalating occurrences of floods, droughts, and desertification further strain crops, agricultural lands, and essential infrastructure, thereby jeopardising the livelihoods of rural communities.
The ongoing Sudan crisis amplifies many of these challenges, with devastating impacts on women and children.
Millions in need
The count of individuals requiring urgent assistance surged from 15.8 million at the close of 2022 to a staggering 24.7 million by May 2023 – an alarming increase of 57%. Acute shortages of medical supplies, water, and electricity hindered access to crucial and timely health services. The destruction of markets and food facilities, coupled with transportation disruptions, are set to push an additional 2.5 million people into hunger, with 40% of the population grappling with severe food insecurity.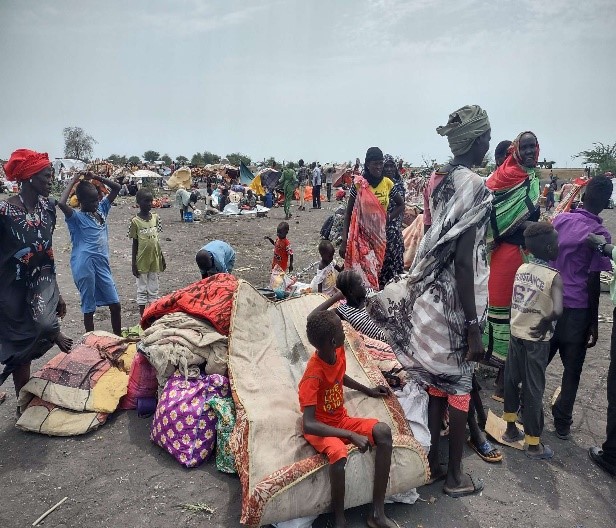 As per reports, nearly 5,000 deaths have been documented (Armed Conflict Location and Event Data Project), and over 4 million individuals, including internally displaced persons, asylum seekers, and refugees, have been compelled to flee. Notably, the countries receiving these refugees and returnees – those escaping the crisis – are themselves some of the world's most fragile. Chad stands as the primary recipient of refugees, followed by Egypt, South Sudan, Ethiopia, and the Central African Republic.
Impact on South Sudan
South Sudan, once part of Sudan, gained independence in 2011 due to persistent conflicts. However, political instability has entangled the nation in a web of ongoing internal conflicts and tensions, leading to some of the highest levels of displacement and humanitarian need globally.
A staggering 76% of the South Sudanese population lives in extreme poverty. Furthermore, 52% of girls are married before the age of 18, and more than 70% of South Sudan's population is out of school. Moreover, with the majority of the population dependent on climate-sensitive livelihoods such as traditional rainfed agriculture and animal husbandry, vulnerabilities linked to climate change have increased food shortages and heightened food insecurity.
All these challenges disproportionately impact women and girls. National Women Empowerment and Rehabilitation Organisation (NWERO), our new Empower to Plan partner in South Sudan shed light on how deep-rooted patriarchal norms and harmful social customs have undermined the fundamental rights of women and curtail their decision-making autonomy. They have been denied opportunities to make informed decisions involving their futures, and lack access to essential healthcare services, increasing health-related vulnerabilities and depriving them of their rights. Furthermore, decades of conflict have sustained a culture of violence that continues to permeate throughout society, especially against women and girls – adding to the complexities of their situation.
Where are they now?
Presently ranked as the world's 3rd most fragile country and holding the 160th position on the global peace index, South Sudan's efforts to recover from its internal conflicts continue to face hurdles.
The influx of returnees from Sudan further complicates and exacerbates the nation's challenges.
As of August 28, 2023, over 245,000 individuals (primarily South Sudanese) have arrived in South Sudan, with the numbers expected to rise (UNHCR, IOM). This has led to overcrowding at transit centres, adding pressure to already stretched resources and amplifying existing socio-economic vulnerabilities.
The economy has been thrown into turmoil, and the already scarce resources and services are now under immense strain. The prices of essential food items in South Sudan have witnessed a skyrocketing surge. As competition over limited resources and land escalates due to population movements, the potential for worsening food insecurity outcomes and heightened humanitarian needs becomes more pronounced, especially for communities already struggling with acute food scarcity. Faced with substantial gaps in food consumption, households may resort to adopting negative coping mechanisms.
The crisis has resulted in over 40,000 school-aged children who have crossed borders being deprived of education. An alarming number of these children arrive in dire medical conditions, marked by malnutrition and waterborne diseases. This unsettling situation renders them susceptible to severe risks, including gender-based violence, child marriage, recruitment by armed groups, and engagement in child labour. The situation is particularly dire for women and children crossing into South Sudan through border points, as they exhibit visible signs of malnourishment and an urgent need for life-saving nutrition assistance.
In essence, the Sudanese crisis acts as a catalyst, triggering a series of effects that spread through the region. It's a clear reminder that turbulence in one part of the world can have far-reaching impacts, influencing lives beyond its source.
Support and Action
Our partnership with the National Women Empowerment and Rehabilitation Organisation, through our Empower to Plan Programme, is working to uphold the rights of women and girls in South Sudan, even amidst this ongoing crisis. Your valuable support can make a significant difference. To contribute and learn more about our efforts, please visit our project page here.
Source https://www.google.com/url?rct=j&sa=t&url=https://populationmatters.org/news/2023/09/the-ripple-effect-how-ongoing-crisis-is-shaping-south-sudans-landscape/&ct=ga&cd=CAIyGjVjYWMzMDRkNTczNGIxNjg6Y29tOmVuOlVT&usg=AOvVaw3liclnfUl7AjPuxmgvWVu5