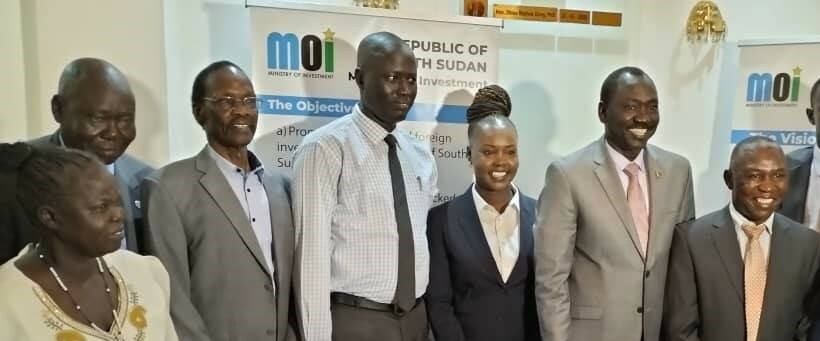 (radiotamazuj.org)
South Sudan plans to host an international investment conference in November to showcase investment opportunities and woo investors into the country.
This comes after the National Ministry of Investment signed a Memorandum of Understanding with the UK-based Center for Workforce Inclusion (CWI) to organize a second investment conference in the nation's capital, Juba.
More than a decade after independence, South Sudan remains impacted by fragility, economic stagnation, and instability. Poverty is ubiquitous, exacerbated by conflict, displacement, and external shocks.
The country depends on oil revenues to finance 95 percent of its fiscal budget.
Speaking after the signing of the MoU in Juba on Tuesday, Clara Marial Benjamin, a representative of the Center for Workforce Inclusion (CWI), said the investment conference will avail opportunities in agriculture, infrastructure, energy and mining, telecommunication, and petroleum.
"The South Sudan Investment Summit may be possible with collaborative efforts such as offering a platform to showcase tremendous opportunities that our country offers across multiple sectors, including agriculture, infrastructure, energy, mining, telecommunication, and in the future, petroleum," said Ms Marial.
She pointed out that the conference will bring together government officials and potential investors to exchange views and innovative ideas as well as create partnerships.
"By bringing together government officials like yourself, industry leaders, and investors worldwide, we aim to foster meaningful dialogue, exchange innovative ideas and forge fruitful partnerships to drive investment and transform hopefully South Sudan's economic landscape long term," she explained.
For his part, Dr. Dhieu Mathok Diing, South Sudan's Minister of Investment, said he will consult with the country's top leadership to fix the date for the summit.
"We are going to consult and I believe it will be in November. I am going to consult with my leaders, I am going to consult with the President and I am going to consult with Vice President responsible for the Economic Cluster to specify a reasonable date that will be convenient for us to convene that investment conference," said Mathok.
"We have a lot of resources, they are not used and it is our responsibility to make them known and try to bring investors such that we use them for the benefit of our people," he added.
In March 2006, the CWC group in London conducted the first investment conference for then southern Sudan.
The summit was held in the Kenyan capital, Nairobi, to woo investors into the southern region. It brought together international companies and the local private sector to discuss the development of various sectors.
Source http://www.bing.com/news/apiclick.aspx?ref=FexRss&aid=&tid=646de4b63c4d414f89f67172f09564d8&url=https%3A%2F%2Fradiotamazuj.org%2Fen%2Fnews%2Farticle%2Fsouth-sudan-to-hold-intl-investment-conference-1&c=15085711612185050362&mkt=en-ca