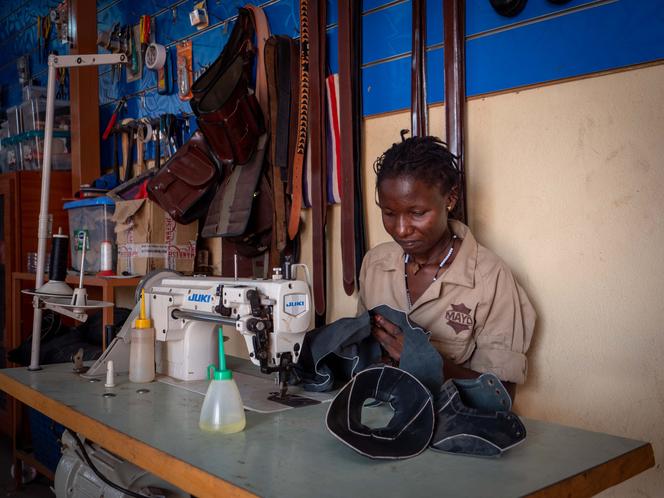 Mary Ina, an employee of Mayo Leather, sews pieces of leather into uppers for children's shoes in Juba on January 10, 2023 (

FLORENCE MIETTAUX)
The sewing machines were still covered. The floor was swept and the workshop dusted between imposing rolls of leather lying next to large bags full of soles and foot-shaped molds. In the early January heat of South Sudan's capital Juba, Mayo Leather, the country's first (and only) leather products manufacturer, resumed production of its thin sandals, thick safety boots, sturdy children's shoes, tool pouches, belts, bags and purses.
The company was established in 2018, but production only began in May 2022. Next to the shelves containing the many tools and metal parts needed for finishing, a large wall displayed the full range of Mayo Leather's creations. There was even a prototype boot in the colors of the South Sudanese flag, as if to prove the company's slogan true: "You Think It, We Make It."
Although custom production is possible, the company relies mainly on the mass production of a few models, which employs eight permanent workers, as well as several day workers when large orders are placed. For example, a businessman wanted 2,000 pairs of shoes for schoolchildren at the end of last year – the kind of business that Mayo Leather's founder, Abui Alfred, 40, hopes to repeat in the future. Providing decent shoes for schoolchildren is the market opportunity he cares about most.
The entrepreneur said he wants to "promote children's education and the culture of wearing uniforms, which advances equality and helps schoolchildren develop self-confidence. We ask them to wear plain black shoes, no frills. And we provide them with durable and comfortable ones."
Read more
Subscribers only
Letter from Juba: The rise of South Sudanese models
[1]
South Sudan's 'enormous potential'
Trained in South Africa at the International School of Tanning Technology, Alfred said he was "inspired to create something that didn't exist in South Sudan." Using his savings and contacts from his training, he was able to purchase used machinery in good condition and set up the workshop from scratch on land he owned.
He said they are only starting with a small part of the leather production chain since there is no tannery in South Sudan. He wants to believe that "having a 'Made in South Sudan' label is possible" and that "we won't have to import everything forever." But, for the moment, he must purchase his raw material, leather, from neighboring Kenya.
Albino Oba, an employee of Mayo Leather, begins the manual assembly of a child's leather shoe in Juba on January 10, 2023.
FLORENCE MIETTAUX
In 2015, South Sudan had more than 36 million cows, sheep and goats, according to a site[2] dedicated to the leather industry in East Africa, which readily points out the country's "enormous potential" in the sector. Kenyans and Ugandans have been able to import hides from South Sudan to their homelands, where tanneries exist, and export them for $5 apiece. This commercial activity is thought to have generated more than $9 million in revenue in 2013 alone. "A loss, a huge loss of income," said Alfred, who hopes to establish the tanning industry in his country in the future.
But to do that, he has to develop the business and find a market. Mayo Leather's school shoes are sold at no more than $35 per pair – a prohibitive price in a country where three-quarters of the population don't have enough to eat. "We hope to find private partners to support the project through funds dedicated to Corporate Social Responsibility," the businessman said. "We can also offer to spread the payment over several months, especially if the purchase is made by a school directly."
Read more
South Sudan project to curb flooding could threaten crucial marshlands
[3]
Physical strength and technical precision
Pausing between brush strokes to glue a sole, employee Younis Aba said he is convinced that the market will grow. "Plastic shoes are not expensive, it's true, but you have to buy three pairs during the school year because they break quickly. These, on the other hand, can last four, five years!" he said, adding, "So, when the feet grow, the child can give the shoes to a little brother or sister. You save money in the end!"
At first, Aba was only in charge of security at the workshop, where he also lives. Then, he became interested in this completely new trade in South Sudan and asked to be trained. The same happened with several other of the company's employees, who were first recruited to build the premises in 2021 and then grew interested in joining the adventure and learning how to make leather shoes by hand.
"We are proud to be the first South Sudanese to acquire this knowledge," said Onyango Emmanuel, who was initially hired as a bricklayer and is now a skilled member of the team. The same goes for Albino Oba, who said it took him "two or three months" to master shoe assembly. It is a crucial step in the manufacturing process that consists in shaping the upper of the shoe, made of sewn-together pieces of leather, onto a foot-shaped mold to which an insole has been nailed.
Read more
Subscribers only
In Senegal, Chanel breathes new life into Dakar's old courthouse
[4]
It is a task that requires both physical strength and technical precision, and which the craftsman carries out diligently until the shoe has taken shape and can be assembled with its outsole. Finally, polish and varnish are applied to give the product its final touch and sturdiness.
Oba would not give up this job for anything, even if the pay is modest: about $100 a month. "At least we get paid every month," he said. Before Mayo leather, he struggled to support his family with day jobs in construction. Mary Ina, an employee in her 20s, knows how to draw patterns, cut leather and sew shoe uppers. Originally hired as a cook, she too asked to learn the trade and join the project. "I'm saving money to go back to school," she said, confident that the experience and skills she has gained will help her in the future, "maybe to open a store of my own."
Read more
Ugandan designer transforms second-hand clothes to sell them in the West
[5]
Translation of an original article published in French on lemonde.fr[6]; the publisher may only be liable for the French version.
Source http://www.bing.com/news/apiclick.aspx?ref=FexRss&aid=&tid=63ce8499f38143409b2fce80a3e53e66&url=https%3A%2F%2Fwww.lemonde.fr%2Fen%2Fle-monde-africa%2Farticle%2F2023%2F01%2F22%2Fin-south-sudan-locals-take-pride-in-working-in-the-country-s-first-leather-products-factory_6012557_124.html&c=8411943740832848036&mkt=en-ca