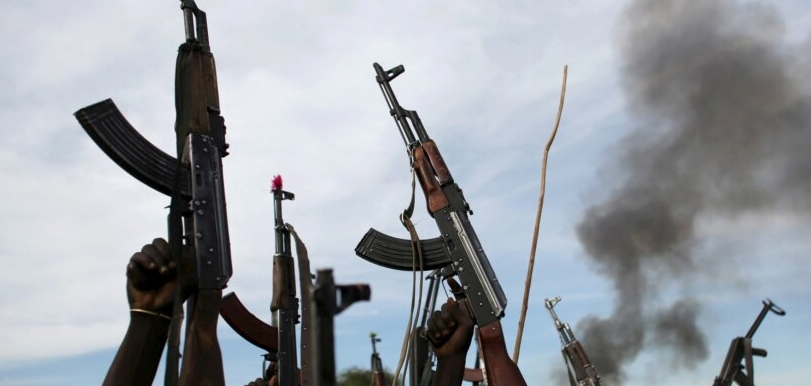 (radiotamazuj.org)
The SPLA-IO Kitgwang faction led by Gen. Simon Gatwech on Monday accused SPLA-IO forces loyal to First Vice President Riek Machar of attacking their position in Tonga in Upper Nile State, a claim Machar's forces deny.
Alfred Gai Thot, the military spokesman of the SPLA-IO Kitgwang faction, told Radio Tamazuj Monday that their positions were attacked at dawn.
"This morning (Monday) at around 5 am, the SPLA-IO forces loyal to Dr. Riek Machar crossed the river and attacked our position in Tonga in Upper Nile and returned to their position. We lost one soldier, and three others were wounded. I do not have information about the casualties on their side," he said. "Two weeks ago, there was looming tension between them and our forces in Tonga because they were claiming our position as theirs, and they fulfilled their plans by attacking our forces today."
Thot said they repulsed Machar's forces and advised the government in Juba to keep unifying their forces.
"Let them continue amalgamating their forces without disturbing their peace because when we act in self-defense, the international community might think that we are warmongers, yet Machar's forces are the ones involved in propaganda and attacking our bases," he charged. "As SPLA-IO Kitgwang, we do not have any plans to attack Machar's forces, and at the moment, we are in our bases. When they unify their forces as a government, they can attack us, but for now, the SPLA-IO forces attacking us are not unified, and we are wondering why they are attacking us."
"They take orders from Machar instead of the Salva Kiir, who is the Commander-in-Chief of SSPDF, and they should be unified so that we know we are fighting one government instead of militias," he added.
When contacted, SPLA-IO Spokesperson Col. Lam Paul Gabriel said the Kitgwang faction is the one who attacked them.
"They are the ones who attacked our position instead. We do not benefit from attacking them because we do not even know their agenda as a group. The report that we attacked them is a lie, and they are the ones who believe they have power, can attack and capture places," he said. "Fighting only takes us all backward because people get injured and killed, and yet the people of South Sudan want peace. What is happening in Upper Nile is painful and does not benefit anyone. What they (Kitgwang) are doing is wrong."
Asked if they lost any soldiers during the Tonga fighting, Col. Lam said they had no casualties.
"They (Kitgwang forces) attacked us and were repulsed," he said.
According to a press release last week, UNMISS, AUMISS, IGAD, R-JMEC, some members of the African Diplomatic Corps, and some members of the international community (TROIKA, EU, Switzerland, India) in South Sudan convened a meeting to discuss the deteriorating security situation in Upper Nile State and the northern parts of Jonglei State.
"Noting the significant impact of the deteriorating security situation on communities — with innocent lives being lost, thousands displaced, livelihoods and property destroyed in both Upper Nile and Jonglei States — UNMISS and the members of the international community call on the Government of South Sudan to further engage the armed elements involved in the conflict to immediately cease the violence and encourage Shilluk and Nuer community leaders in both states as well as in Juba to help stop this mayhem," the statement read.
Source http://www.bing.com/news/apiclick.aspx?ref=FexRss&aid=&tid=638f196ad1aa43838b7d2ddb26f90e33&url=https%3A%2F%2Fradiotamazuj.org%2Fen%2Fnews%2Farticle%2Fspla-io-kitgwang-faction-spla-io-machar-trade-accusations-over-tonga-fighting&c=7853378552237835104&mkt=en-ca