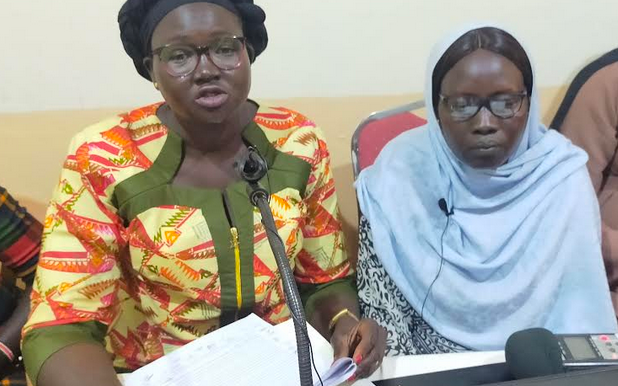 The women's bloc Amer Manyok (L) addressed the press. (Photo: Radio Tamazuj)
A lobby group, the Women Bloc of South Sudan, has demanded the formation of a ministry of women and children affairs.
Addressing a press conference in Juba on Tuesday, Amer Manyok Deng, the chairperson of the women's bloc, claimed that the ministry of gender, child, and social welfare was too small to tackle all the issues of women and children.
"The ministry of gender is for men and women, elderly men and elderly women, veterans are also supposed to have a share there because anybody who has retired, the ministry of gender can accommodate," she charged. "As women of South Sudan, we have a lot of challenges and issues that need to be addressed separately."
Manyok stressed that they demand the ministry for women affairs to help empower women economically as they are lagging economically.
"Women need to be trained on how to open up their space. Economically, we are the least in the market who can contribute to the development of this country although the sustainability of the families is in the hands of the women," she emphasized. "You know the majority of our children are on the streets as we speak. Many are orphans and they decided to join the streets because of the challenges that they are facing. That is why we are demanding a separate ministry of gender to tackle the issue of women, particularly economic, socio-cultural, and also political issues."
However, Edmund Yakani, the executive director of the Community Empowerment for Progress Organization (CEPO), said the women should instead demand a commission for women's affairs.
"What the women should have asked for is a gender commission because we lack the policies and the oversight of the gender," he said. "So calling for a commission on affirmative action is more important than calling for a directorate or a ministry of women affairs because I think the ministry of gender is enough."
Source http://www.bing.com/news/apiclick.aspx?ref=FexRss&aid=&tid=632c192680ed444b9e2c843d2eeaa4e1&url=https%3A%2F%2Fradiotamazuj.org%2Fen%2Fnews%2Farticle%2Flobby-group-demands-the-creation-of-women-affairs-ministry&c=9122363545472687008&mkt=en-ca