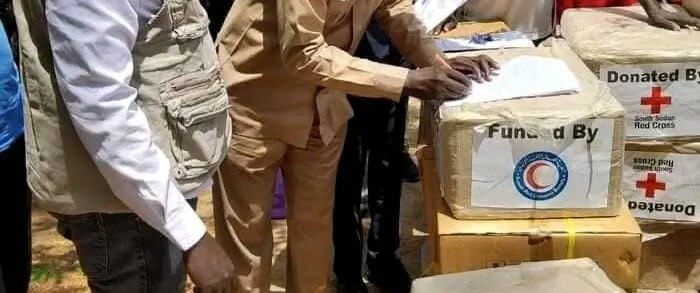 (radiotamazuj.org)
The Ministry of Health in Unity State has received a donation of 3 tons of assorted medicines from the Kuwait Red Crescent on Wednesday.
The medicines were delivered by the South Sudan Red Cross to the state's main health facility.
In an interview with Radio Tamazuj on Wednesday, the Minister of Health in Unity, State Stephen Tot Cheng said the donation includes different types of human medicines meant to be distributed to the flood-affected area.
"Kuwaiti Red Crescent brought different types of human medicines and we handed them over to the state hospital. Actually, they are 3 tons of human medicines," he said
"There are so many drugs and I think in the next 3 to 4 months there will be no complaints about the lack of drugs in the state hospital," he added.
Tot Cheng said the government will ensure the assorted drugs will go to the intended groups without finding their way to the market and private clinics.
He also confirmed that government drugs have been sold in the parallel markets by government officials.
"We always launch inspection in all markets. Those donated medicines we always confiscate them and take them back to the ministry," he said.
Ruai Bang Teny, the Head of the South Sudan Red Cross in Unity State, said the medicines mainly target areas that were adversely affected by last year's floods.
"It is a responsibility of the state ministry of health to distribute these medicines to the counties or use it within the state hospital," Mr. Teny said
The donation by the Kuwait Red Crescent has also been extended to other states including Upper Nile and Jonglei, as some of the most flood affected areas in 2021.
Source http://www.bing.com/news/apiclick.aspx?ref=FexRss&aid=&tid=D84DE2EFC7244528A738E542CCBECDE4&url=https%3A%2F%2Fradiotamazuj.org%2Fen%2Fnews%2Farticle%2Fred-cross-hands-over-3-tons-of-donated-medicines-to-bentiu-hospital&c=9827466828689230883&mkt=en-ca