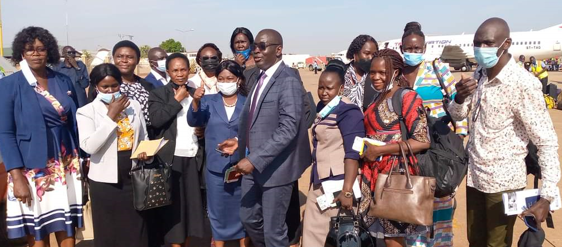 The women parliamentarians pose for a picture at the Juba International Airport (JIA) before takeoff (Radio Tamazuj photo)
A group of South Sudanese women parliamentarians on Monday arrived in Kigali, Rwanda for a five-day tour to study the democratization process and how women bodies operate there.
Last week, another group of women parliamentarians were in Nairobi for the same purpose and visited several offices including the Nairobi County Assembly and the National Legislative Assembly of Kenya, and observed how parliamentary motions are conducted.
Speaking on arrival in Kigali, the director of gender and democracy in South Sudan's parliamentary affairs ministry, Jackeline Novello, appreciated the United Nations Entity for Gender Equality and the Empowerment of Women, also known as UN Women, and the Community Empowerment for Progress Organization (CEPO) for organizing the trip of the women parliamentarians to Rwanda.
"I thank the people who made this program a reality, UN Women South Sudan in collaboration with the CEPO and we hope similar programs will continue with women parliamentarians to deliver effective work," Novello said.
She added that the objective of the study tour was in line with the Parliamentary affairs ministry's strategy to promote women leaders to participate in politics and the democratic process.
"So, we promote women leaders to enhance their visibility through organizing these study tours to other countries with high representation of women in parliament," she added. "We had these activities to network our South Sudan women parliamentarians with Rwandan women to learn how the democratization works and also what women regional bodies are doing."
For her part, Redanto Veronica, a parliamentarian participating in the tour, said she expects to learn about the experience of the Rwandan parliament in the state-building and how women attained high numbers in the house.
"I want to know how the Rwanda Legislative Assembly system works in sustaining peace," Redanto said. "I also expect to know more about the strength of Rwandan women and how they won many seats in parliament."
Meanwhile, CEPO's executive director, Edmund Yakani said the study tour of Rwanda is a great opportunity for the female parliamentarians to discover their role in effective participation in transitioning the society in South Sudan from violence to peace and security.
"Women parliamentarians recently appointed to the national legislature in South Sudan have a big role to play in making peace and security happen in South Sudan," Yakani said.
Shukria Syed, the program officer, women, peace and security at the South Sudan UN Women country office, said they were pleased that that women parliamentarians got exposure to Kenya and Rwanda.
"We are pleased to see that appointed women parliamentarians got an opportunity of exposure to Kenya and Rwanda for gaining experiences from their counterparts on influencing public governance and decision making," Syed said. "We are committed to ensuring that South Sudan women parliamentarians play an effective role in driving the agenda of peace and security for the common good of the society."
Source http://www.bing.com/news/apiclick.aspx?ref=FexRss&aid=&tid=0E681B66AD384298B50D9DD03C48FC38&url=https%3A%2F%2Fradiotamazuj.org%2Fen%2Fnews%2Farticle%2Fwomen-mps-in-kigali-for-study-tour&c=17824664515750718090&mkt=en-ca