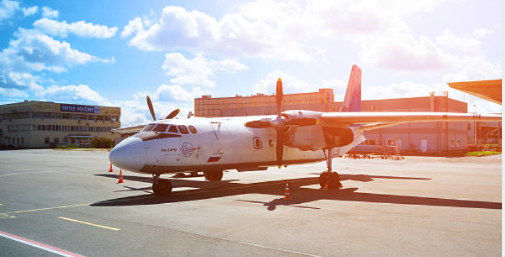 An Antonov 26 (Internet photo/radiotamazuj)
The South Sudan Airline Operators Union (SSAOU) is calling on the government of South Sudan to call off the ban on Antonov planes citing a looming humanitarian crisis in parts of Greater Upper Nile and Barh El Ghazal areas.
SSAOU Secretary-General for information and CEO and Managing Director for Optimum Aviation, Kat Monyjok, says the ban has led to a lack of transportation of goods and supplies to far-flung areas not accessible by road.
"The messages that we are receiving from the areas outside Juba such as Yida, and Renk, our civil population there is crying because there is no means of transport that could take goods to those affected locations. Like the entire Upper Nile, and also some parts of Barh El Ghazal and Unity States including the three administrative areas they are highly affected and they don't have means of transport to take the cargoes there," Monyjok echoed.
He insists that Antonovs remain a major means of transport in most parts of the country due to the poor road network in the country.
"The reason as to why we (operators) are using the Antonovs is because we as a country don't have an alternative and a solution. We don't have good roads to go to these areas and we don't have any other means of transport apart from the air transport," Monyjok added.
The SSAOU official says the South Sudan Civil Aviation Authority (CAA) should have studied the repercussions of a ban before taking the decision and put in place alternative plans.
"What Civil Aviation should have done was to come up with the mechanisms not to ban the Antonov but to look into the mechanisms on how to ensure that the safety standards are maintained but not actually to ban them because what option do they have? Surely if these Antonovs continue to be grounded for the next few days, the effect will be massive," he said.
Monyjok calls on the CAA to allow Antonovs to resume operations as they institute proper standard measures.
"I would request the South Sudan Civil Aviation to first give time to the current Antonovs to operate. In the meantime, as they come up with the best ways and mitigations on how best to reduce these accidents in conjunction with the operators like us to first set certain standards and regulations," he advised. "And use that time to transform some of the airstrips that we have so that they can be able to accommodate other different types of aircraft."
Justine Nyama Amos, an official from Sun Air Aviation company said, the ban on the Antonovs has created gaps in the air transport business.
"This decision by the government has created a gap and this has affected our business. Antonovs are very effective and fuel-efficient and can land on dangerous airstrips given the current situation of most airstrips we have in South Sudan," Nyama said.
He said the air transport business has been affected as customers fear that all aircraft are grounded.
"Business has dropped a little bit because of the news we hear outside," adds Nyama.
The CAA, on 10th November 2021, banned all Antonov planes from operating in the country citing a lack of proper maintenance and registration documents.
The decision came days after an Antonov 26 plane operated by Optimum Aviation crashed in the Gondokoro area adjacent to Juba International Airport killing five crew members after takeoff.
Source http://www.bing.com/news/apiclick.aspx?ref=FexRss&aid=&tid=91C7529F5D0447B5B00D17D03111AD05&url=https%3A%2F%2Fradiotamazuj.org%2Fen%2Fnews%2Farticle%2Fsouth-sudan-airline-operators-urge-authorities-to-lift-the-ban-on-antonovs&c=12720435232440102903&mkt=en-ca