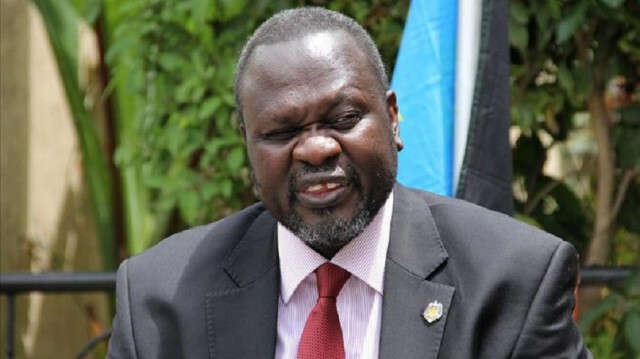 Riek Machar (yenisafak.com)
South Sudan First Vice President Riek Machar directed governors in 10 states and three administrators of the three administrative areas to do more Monday to end inter-communal clashes that have left thousands dead since last year.
"The inter-communal violence poses a major threat to the ongoing peace implementation process in the country," Machar said during the opening of the fifth governor's forum in the capital, Juba.
Intermittent communal violence spiked in mostly the northern, central and eastern parts of the country leaving many dead and hundreds displaced.
The five-day event, organized by the Office of the President with support from the UN Development Programme and the UN Mission in South Sudan is expected to deliberate the national budget allocation for social services delivery and strengthening of local governments.
Among the most affected states include Jonglei, Lakes, Pibor Administrative Area and Warrap state.
The violence often is characterized by cattle raiding, revenge killings and child abduction, particularly in the Jonglei and Pibor areas.
Machar said he expressed hope of reaching an end to hostilities between hold-out armed opposition groups such as the National Salvation Front (NAS) led by renegade Gen. Thomas Cirilo Swaka, and others under the Rome peace initiative being mediated by the Catholic community of Saint Egidio since late 2020.
"The Rome initiative is there which we believe will bring in the hold-out groups to the peace process but the most devastating issues now are inter-communal violence, cattle rustling, child abduction and women abduction and destruction of villages," said Machar.
He noted that the intensity of communal violence remains high, despite fighting between parties to the 2018 revitalized peace deal having significantly subsided due to a 2017 cease-fire that is largely holding.
"Inter-communal violence is happening in the states and it happens around the capital, it is dragging us back. The political violence has come to an end although we still have pockets of violence in Central Equatoria," said Machar.
Governor of Central Equatoria state, Emmanuel Adil Anthony, reaffirmed state governors' and chief administrators' commitment to the implementation of the Revitalized Agreement on the Resolution of the Conflict in South Sudan in letter and spirit.
Source http://www.bing.com/news/apiclick.aspx?ref=FexRss&aid=&tid=91C7529F5D0447B5B00D17D03111AD05&url=https%3A%2F%2Fwww.yenisafak.com%2Fen%2Fworld%2Fsouth-sudan-vice-president-directs-state-governors-to-end-communal-violence-3584723&c=1413838441868719969&mkt=en-ca