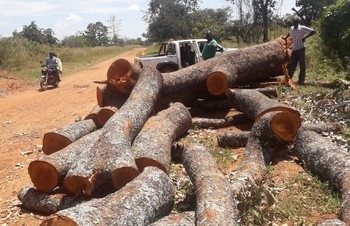 (radiotamazuj.org)
Illegal loggers have threatened Kajo-Keji County authorities in South Sudan's Central Equatoria to close their offices or risk attacks this week.
The threats come after the county authorities issued an order two months ago banning all illegal logging activities in the area.
Central Equatoria State cabinet minister Wayi Godwil Edward confirmed the receipt of audio recordings threatening Yei County authorities.
"The state government has received threats from groups that reject the government's decision to prevent illegal logging in forests," he said. "We issued a ministerial decision, two months ago, to prevent the excessive cutting of trees, and the governors are implementing this decision now, despite the challenges, but the groups that cut timber threaten the government when the implementation began."
Here are some of the audio recordings obtained by Radio Tamazuj from the suspected illegal loggers.
"As of tomorrow, you should not go to the office. I will start with you slowly. This is a threat to chaos in Kajo-Keji. If you want us to be taken to Juba together, I am with you. I will do anything and run behind the mountains there," one of the voices said.
Another voice said, "We are ready to die because we are right, and no office should be opened in the county this week. Whoever opens an office will know who we are. This is our message, if you are from the National Security or the army and intelligence, we ask you not to go there, and we do not want any open office, but if the offices are opened we will attack anyone."
However, Godwil stressed that the order will remain in force and everyone must respect the order.
"The government is above everyone and no one can break the laws and threaten the government, especially in Central Equatoria State. Those threatening the government are from the neighboring states, and we in Central Equatoria respect the laws and do not accept threats from people who threaten the government," he said. "If you are cutting trees in Central Equatoria, please go to your state and cut trees there because in Equatoria we are against illegal logging."
Source http://www.bing.com/news/apiclick.aspx?ref=FexRss&aid=&tid=87A8E84F298C43CA99E2A93DFDC865C1&url=https%3A%2F%2Fradiotamazuj.org%2Fen%2Fnews%2Farticle%2Fkajo-keji-county-authorities-receive-threats-from-illegal-loggers&c=17189151576995671595&mkt=en-ca