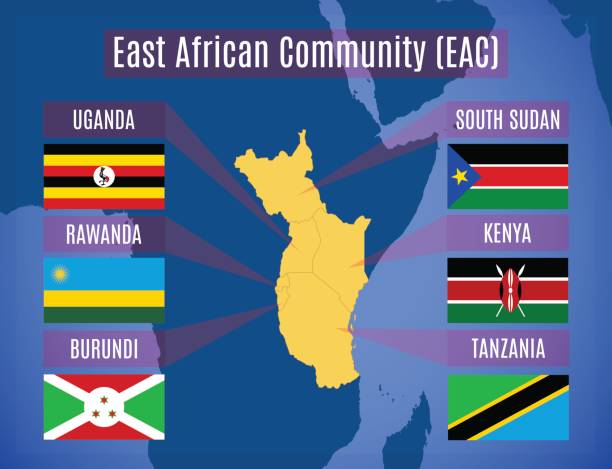 (istockphoto.com)
By Guest Writer
'This will not work, these guys have their own ways…at times you can't tell who is who..' jerked Mzee Mashurubu as we watched the newsbyte about the strike of the long haulage truck drivers against insecurity inside South Sudan. The solution in place so far is the escorting of trucks by South Sudan government soldiers: every 20 trucks will have two military jeeps escorting it as a single convoy. This means one jeep at the head, the other at the tail, or half-way the 20-truck train. Either way, he argues, the soldiers can only effectively secure the trucks nearest to their jeep, its span not going beyond the fifth truck in either direction. This leaves trucks beyond the span vulnerable to hit-and-run attacks. This is what Mzee says will not work.
The effective solution is simple: Uganda and South Sudan governments agree to have a relay inland container depot at Eregu inside Uganda. The Ugandan Ministry of East African Community Affairs invite private investor bids to set up warehouses into which South Sudan-destined goods will be offloaded by trucks hitherto transiting through Uganda. The Customs bodies in both countries, the Incoterms from the exporting countries, will factor in the emerging Customs implications.
From the Eregu relay depots, trucks from South Sudan, registered in the country and owned by her citizens will haul the goods to their respective final destinations. This is the only workable solution to the current insecurity. The pirates attacking foreign trucks regard them as legitimate prey. They will not attack trucks from South Sudan, owned by South Sudanese, driven by South Sudanese. If attacks do happen, it will be an internal affair which can be settled by the South Sudanese among themselves.
Amidst this and other hiccups in the regions, the EAC Verification Team on DRC's suitability scores to join the East African Community is soon releasing its report and all indications are that 'it is positive'. Positive, from a visit to Goma, the capital of mineral-rich North Kivu Province, thousands of kilometres from the national capital Kinshasa and other key provinces. An enigmatic city of extreme contrasts: a jungle airport, the second busiest in the region (after Nairobi's Wilson), and the 'most freelance' commercial and administrative polity. Goma, the city of currencies: Congolese franc, Rwandan franc American dollar, 'Goma dollar', all circulating legal tender. Pharmaceutical medicines sold in heaps alongside tomatoes. Goma, the twin city of Gisenyi in Rwanda: 90 per cent of non-Congolese expatriates and even some Congolese workers, businessmen, will be 'permanent lunch diners' at L'Hôtel Stella Matutina, La Corniche…, in Goma; and 'permanent dinner diners' at Kivu Serena, Peace View, Centre d'Accueil Francois Xavier… in Gisenyi. Permanent morning and evening clients at the two border crossing points: Petite Barrière (small barrier) and Grande Barrière( big barrier). In-betweeners are the blue helmets and blue turbans of Monusco, the largest UN peace-keeping force anywhere in the world today. Monusco!!,…uhmm! Goma's hinterland, North Kivu is the theatre of the milliard militias, each with its fiefdom and allegiances ( local and foreign). Presently under 'Etat d'Urgence' ( State of Emergency) with military officers holding political positions. Kivu Province, whose Masisi hills, Nyamitanga, Kanyabayonga and Nyaweera grasslands would make Texas ranchers go green with envy, is literally a theatre of daily massacres, rapes, pillage, abductions and a haven of marauding warlords and extremist forces grooming. Regional intervention elusive, multinational capital extracting, 'humanitarian' agencies flourishing.
Which variables scored positive in the EAC Team's report? If we learnt nothing from the silver platter admission of South Sudan into the EAC, in DRC, we shall forget nothing!
Matsiko Kahunga
Source http://www.bing.com/news/apiclick.aspx?ref=FexRss&aid=&tid=9CA1E56993294AB8A8A7B7A80F4F5A38&url=https%3A%2F%2Fwww.monitor.co.ug%2Fuganda%2Foped%2Fcommentary%2Fsouth-sudan-road-insecurity-solutions-lessons-3550598&c=5005133083037570643&mkt=en-ca