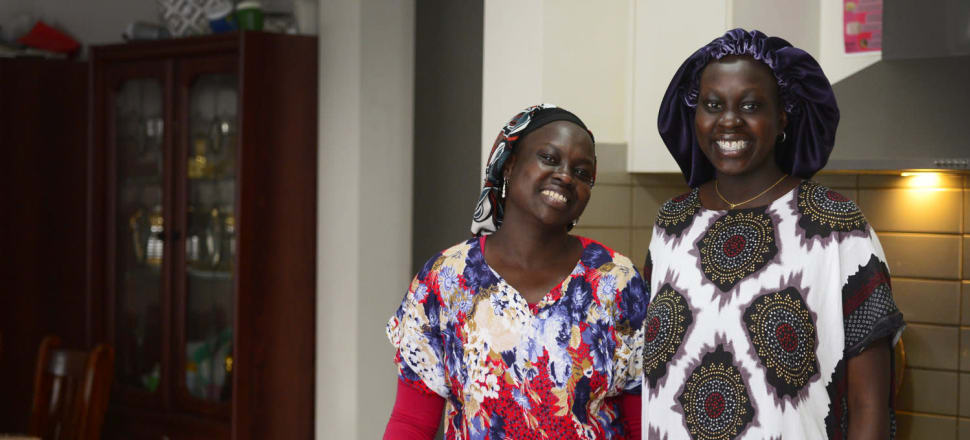 When Ayon Tong was growing up, her village in Sudan had no local shop, and everything cooked in the kitchen was harvested from the garden.
Now living in Shepparton with her seven children, Ms Tong often has to travel to Footscray in Melbourne to purchase the ingredients needed to cook her traditional dishes.
It's all worth it, though, for Ms Tong to pass on her South Sudanese culture to her children - including her 18-year-old daughter, Alkeer Yel.
Ms Yel's favourite dish has always been the traditional and rich Kombo Kissira - cooked over several days with African flatbread or 'Kissira' - alongside okra, spinach, peanut butter and lamb.
Ayon Tong and her daughter Alkeer Yel have bonded over South Sudanese cooking.
The special thin bread takes two days to rise with flour and water, and is the perfect delicacy to lap up the Kombo by hand.
"The Kombo has okra in it, so it's kind of slimy, that's the main texture," Ms Yel said.
"But the main ingredient you taste is the peanut butter and the okra . . . we cook with okra a lot, but it is expensive here."
Okra, an acquired taste in western cultures also known as 'ladies' fingers', is a sticky flowering plant known for its edible seed pods.
We are treated to a sample of okra in the Kombo Kissira, served alongside Quinn Dyong, a delicacy dessert rich in dairy, often presented as a sign of wealth that must be constantly mixed for almost two hours.
Quinn Dyong, a sweet dessert.
The creamy semolina dish, topped with fried, tangy yoghurt and unsalted butter is a signature of wealth in South Sudan, where cows are known as a form of currency.
"This is special for weddings, if you have it every other day you are rich," Ms Tong said.
"And you have a lot of cows."
Hailing from the Dinka tribe, Ms Tong moved to Australia in 2003 from Egypt.
Ms Yel was just 10 months old at the time, and said she'd learned about her culture and its food predominantly through her mother.
After three years, the family relocated to Shepparton, where they've been ever since.
Ayon Tong and her daughter Alkeer Yel put the finishing touches on Kombo Kissira.
Ms Tong said she'd also learned the art of cooking through her family.
"I learnt to cook through my mum, she used to cook okra and pumpkin leaves with sesame seeds and peanut butter," Ms Tong said.
"I still remember how my mum did it, and my dad.
"Everything was more natural there, here there's more alternative and sugar-based stuff, watered down stuff, it's not like it was in Sudan.
"We grew everything in our country, there was no shop in town when I was born, you had to make what was in season and dig in the seeds."
When Ms Tong arrived in Australia, she was surprised to find none of the staples of her home country available in stores.
"There was no okra or pumpkin leaves," she said.
"I found a friend growing pumpkin and said 'can I have pumpkin leaves' and she said - 'what do you do with it' and I said 'I eat it!'"
Ayon Tong and Alkeer Yel's Kombo Kissira
Kombo Kissira, cooked with okra, spinach and lamb.
Kombo Kissira is one of the signature dishes in South Sudan. "This is the favourite, my kids smell it when they come home," Ms Tong said. But there is one special way to consume it if you want to be authentic. "You eat with your hands, that's how we do it," Ms Tong said. "That's how we eat it in the village, it's traditional."
Ingredients
● One onion
● Chopped lamb
● Four cups of diced okra
● Two packets of smooth peanut butter
● Two tablespoons of kombu (a type of edible kelp)
● Maggi chicken for seasoning
● Six packets of spinach
Method
● Add the onion and chopped lamb (or a meat substitute) to a large pot and cover with water. Simmer until the lamb and the onion are almost cooked.
● Add four cups of diced okra and stir.
● Wait for the okra to cook, then add the kombu and stir.
● Season with Maggi chicken to taste, and finally stir in the spinach and wait for it to wilt.
● Once cooked, turn the heat off and stir in the peanut butter.
● Serve alongside flatbread or head to Footscray to purchase traditional 'kissira' of your own. Make sure you lap it up by hand, and don't be worried about making a mess!
Source http://www.bing.com/news/apiclick.aspx?ref=FexRss&aid=&tid=C93254DBA89243DD9C59C72329B3CC40&url=https%3A%2F%2Fwww.sheppnews.com.au%2Fnews%2F2021%2F06%2F17%2F4455889%2Fsouth-sudanese-delicacies-a-mother-daughter-treat&c=16848974574226072753&mkt=en-ca