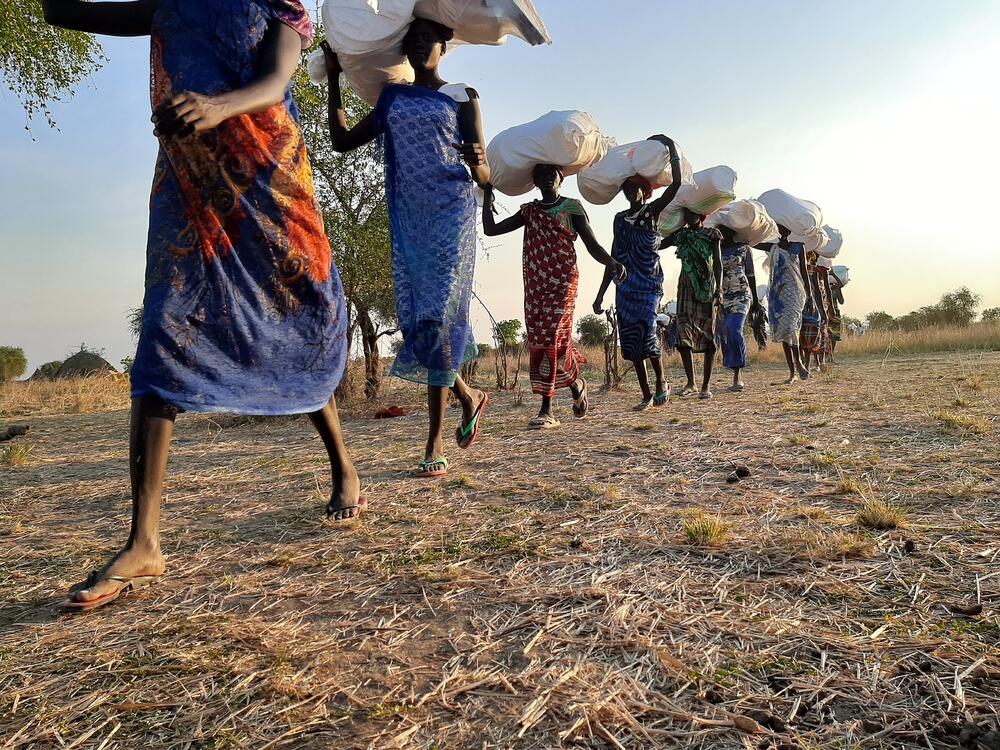 Women from Riang, Jonglei state, carry essential items distributed by MSF to support the community (© Damaris Giuliana/MSF)
UK government cuts
"Prior to the recent cuts in overseas aid by the British Government and the merging of the Foreign and Development Office, the UK was the second-largest donor of humanitarian response in South Sudan," said Vickie Hawkins[1], executive director of MSF UK.
"Having assured us that their commitment to overseas humanitarian aid remains unchanged, the UK Government must prioritise financial support of lifesaving healthcare and humanitarian assistance in South Sudan to avoid a worsening of this crisis."
Surrounded by swamplands, these rural communities face months of floods during wet seasons and widespread violence, aggravated by the scarcity of resources, such as food and livestock, during dry seasons.
Swimming through the swamps
People living in these villages have to walk more than an hour to reach the nearest free-of-charge healthcare, crossing swamps while carrying patients in baskets or on plastic sheets. During the rainy season, the water levels are so high that only those able to swim can cross the swamps to see a doctor.
Meanwhile, those in need of specialised treatment must be carried to the MSF facility in Lankien, a journey of several days and nights walking.
Source http://www.bing.com/news/apiclick.aspx?ref=FexRss&aid=&tid=937D5606A00B4989AD9A92E59FBFD6B2&url=https%3A%2F%2Fmsf.org.uk%2Farticle%2Fsouth-sudan-one-emergency-after-another-jonglei-international-funds-fall&c=1385208602070138344&mkt=en-ca