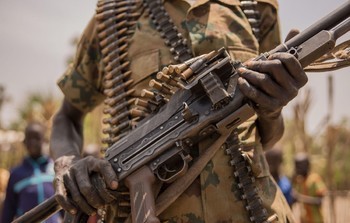 ©radiotamazuj.org
At least seven people were killed and four others wounded in the Paloch area of ​​Melut County in South Sudan's Upper Nile State when they were attacked by a group of armed men on Saturday evening.
Melut County Executive Director, Lual Chol Mayom, told Radio Tamazuj Sunday that six people died on the spot, while one succumbed to his injuries later in the deadly attack that took place at the Paloch market.
Chol explained that the wounded are receiving treatment at the Paloch Hospital, noting that the attackers fled but security forces are searching for them.
Major General Manyok Gerkuj, Renk County police inspector confirmed the incident, expressed his condolences to the victims' families, and affirmed that the attackers will be brought to book.
He revealed that a joint security committee will visit the crime scene and investigate the circumstances surrounding the attack.
Gerkuj further denied that the incident was linked to a cattle raid last Wednesday in the Wun Ajak area of Paloch in which four people were killed. He insisted that the truth will be revealed once the investigations are over.
Source http://www.bing.com/news/apiclick.aspx?ref=FexRss&aid=&tid=1359DE15A47646F69392186DF7E7F73F&url=https%3A%2F%2Fradiotamazuj.org%2Fen%2Fnews%2Farticle%2F7-people-killed-in-paloch-upper-nile-state&c=1416050001443816550&mkt=en-ca