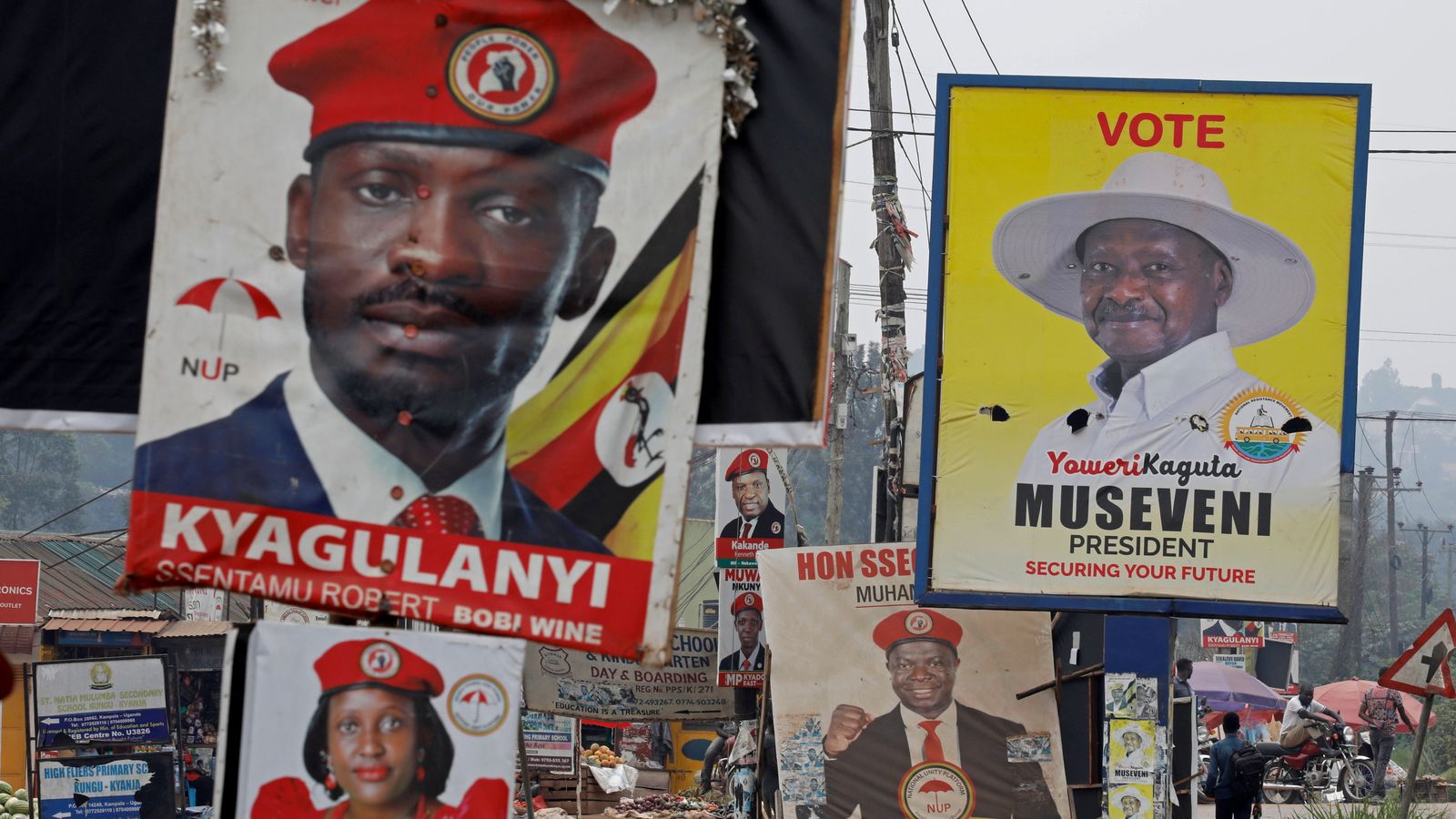 ©skynews
The president refuses to leave office and uses lies, manipulation and violence in his quest to retain power. The difference between the US and Uganda, where elections are taking place on Thursday, is that Uganda's institutions are not strong enough to resist.
President Yoweri Museveni, a former rebel leader, seized power in 1986 after overthrowing a dictatorship. The problem with African leaders, Mr Museveni said then, was that they overstayed. Thirty-four years later he is still there.
Regrettably, this is becoming common practice[1] in Africa. Though opinion polls show African citizens overwhelmingly support democratic norms, especially term limits, leaders have become adept at manipulating systems to stay in power. In Burundi, Guinea, Ivory Coast, Rwanda as well as Uganda, incumbents have twisted constitutions to extend their rule.
Though coups are now relatively rare in Africa, former soldiers have become adept at using weak systems to gain — and retain — power. Leaders in Angola, Chad, Egypt, Ethiopia, Nigeria, Rwanda, Sudan, South Sudan and Zimbabwe once wore khaki or camouflage.
Mr Museveni, a former fighter himself, is at 76 running for yet another term. The elections lack all credibility. The institutions that should protect voters have been captured. His main challenger, the singer-turned-politician Bobi Wine, [2]has been beaten and shot at. Scores of his supporters have been killed. His access to media has been cut. Under the guise of Covid-19 restrictions that apparently do not apply to Mr Museveni, Mr Wine's rallies have been broken up[3].
Comparisons with the US are not spurious. Donald Trump's desperate efforts to retain power have taken place in an established democracy with robust checks and balances. There is nothing peculiarly African about leaders seeking to cling on.
The stakes in most African countries are higher than in western democracies. Victors — and their coterie of hangers-on — gain access to power and money. Losers are shut out. One reform that democratic forces might pursue, especially in countries with electorates divided along ethnic lines, is to devise systems that are not winner-takes-all.
The faltering of democracy in Washington makes it harder for the US and other western nations to lecture African leaders about their shortcomings. Even so, donors should continue to brave charges of hypocrisy to make clear where they stand. The message needs to be nuanced, but Joe Biden should make it clear to African democrats that he is on their side.
Even more important is what Africans do themselves. Uganda's Mr Wine is but one example of a rising phenomenon in a continent where the median age is below 20[4], but many leaders are three or four times that age. An increasingly connected, ambitious, but frustrated, urban youth is becoming a potent political force. In both Algeria and Sudan[5], street movements helped dislodge governments. That will happen more often if states cannot build democratic systems that allow people to select — and sack — their leaders.
It is not all bad news. In several countries, including Botswana, Ghana, Kenya, Malawi, Mauritius, Nigeria, Senegal and South Africa, some form of democracy has taken hold. A court in Malawi last year made history[6] by annulling a fraudulent election.
Imperfect though such systems are, popular demands for accountability are stronger than ever. With constant civic pressure, the forces demanding accountable government can reverse recent setbacks. It will be a miracle if Mr Wine wins an election so blatantly stacked against him. But the aspirations he represents will not disappear.
Source http://www.bing.com/news/apiclick.aspx?ref=FexRss&aid=&tid=2914935BA0154FE1AAF1298143D1804E&url=https%3A%2F%2Fwww.ft.com%2Fcontent%2F9673651f-315c-4605-85a1-3f076976abe8&c=14167848023475480336&mkt=en-ca