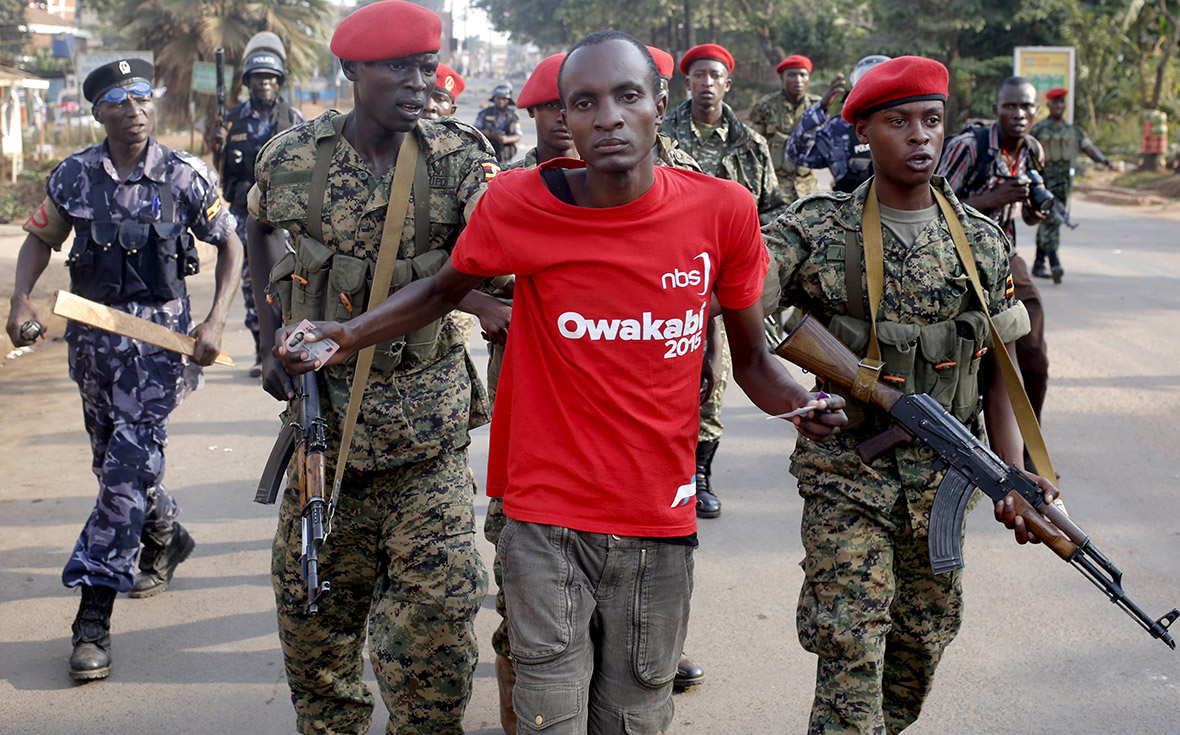 ©ibtimes.co.uk
KAMPALA, Jan. 10 (Xinhua) -- Ugandans will cast their votes on Thursday to elect a new president who will lead the east African country for the next five years.
Eleven candidates are vying for the presidency in what observers say is a hotly contested election. Opinion polls suggest the three front runners as incumbent president Yoweri Museveni, pop star turned politician Robert Kyagulanyi Ssentamu alias Bobi Wine and Patrick Amuriat.
The following are profiles of the three front runners presented in alphabetical order starting with their last name.
Patrick Oboi Amuriat
Amuriat is a seasoned engineer and politician who served continuously as a legislator for 15 years starting in 2001, according to Forum for Democratic Change (FDC), an opposition party he leads.
Amuriat is the presidential flag bearer of FDC, the largest opposition party in the country. FDC under the leadership of Kizza Besigye was a major challenger to President Museveni in the last three presidential elections. Amuriat hopes to ride on the same force to cause a change in the country.
Yoweri Museveni
Museveni has been in power for the last 34 years after he won a five-year guerrilla war in 1986.
In 1995, Uganda promulgated its constitution and a year later the country started holding periodic elections every five years.
Museveni has since been contesting in the presidential elections, winning each one of them.
The 76-year-old leader was born to cattle keeper Amos Kaguta in the western Ugandan district of Ntungamo. Museveni had university education at the Dar es Salaam University in neighboring Tanzania.
At university, he started getting involved in politics and this would determine his path in later years.
Museveni in 1979 helped to oust military strongman Idi Amin who had been in power for nine years after toppling Milton Obote who led the country to independence from British colonial rule in 1962.
In 1980, Museveni ran for the presidency but he lost to Obote and later waged a guerilla war saying the elections were not free and fair.
The country's parliament in 2005 scrapped the presidential term limits, a move the opposition saw as a favor to Museveni whose two five-year consecutive terms were coming to an end.
In 2017, parliament, which is dominated by the ruling National Resistance Movement, voted to remove the age limit for running for the presidency, a move criticized by the opposition as a leeway for Museveni to run for the presidency.
According to a previous law, persons over the age of 75 were not allowed to run for the presidency. Museveni at that time was 73 years old.
Museveni has been involved in various peace efforts in Africa. In 2007, he authorized the deployment of Ugandan troops to a peacekeeping mission in Somalia. Uganda has previously sent peacekeeping troops to Liberia.
He was involved in the Burundi peace process, South Sudan peace process and various peace initiatives on the continent.
He has also been involved in fast-tracking the East African Community integration which brings together six countries including Uganda, Kenya, Tanzania, Rwanda, Burundi, and South Sudan.
Robert Kyagulanyi Ssentamu
Kyagulanyi goes by the stage name Bobi Wine. He is a musician, actor, politician and businessman.
The 38-year-old, who is currently a legislator, is seen as Museveni's main challenger. He is riding on a youth movement to cause change in the country which he says has been run down.
Uganda has one of the world's fastest-growing populations with the current figure 46 million expected to increase to 74 million in 20 years and more than double to around 104 million by 2060, according to World Bank figures. Some 75 percent of the population is below the age of 30, with the country having one of the highest youth unemployment rates at 13.3 percent.
Kyagulanyi, who heads the opposition National Unity Platform party, argues that it is time for the young people to champion the change they want.
"In the new Uganda, the youth will be a priority for investment especially in education, health care and skills," he said at a recent rally. Enditem
Source https://www.google.com/url?rct=j&sa=t&url=http://www.china.org.cn/world/Off_the_Wire/2021-01/11/content_77100507.htm&ct=ga&cd=CAIyGjVjYWMzMDRkNTczNGIxNjg6Y29tOmVuOlVT&usg=AFQjCNGpGKBMc3cM2IBf5lqeQPU6R2qziQ