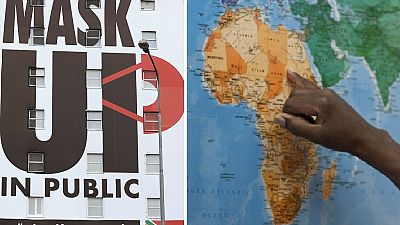 The coronavirus pandemic has been confirmed in over 180 countries globally since it was first discovered in the Chinese city of Wuhan in late December 2019.
The World Health Organisation, WHO, has since declared it a pandemic due to its spread. All except three African countries have recorded cases as governments roll out measures to combat the spread.
In this article, we will share the latest developments as authorities implement measures to contain the spread of the virus, especially on the African continent. Major stats as at April 6:
Confirmed cases = 9,393
Number of deaths = 445
Recoveries = 906
Infected countries = 51
Virus-free countries = 3 (Sao Tome and Principe, Lesotho, Comoros)
SUGGESTED

READING

: rolling coverage of the coronavirus outbreak in Africa II
[1]
South Sudan records index case
African cases nearing 10,000 mark
More Jack Ma donations announced
Zimbabwe police reverse beer ban, AU leaders meet

DRC

locks down expats zone, Malawi index cases
SUGGESTED

READING

: rolling coverage of the coronavirus outbreak in Africa I
[2]
April 5: South Sudan index case
South Sudan has announced its first case of
COVID
-19, making it the 51st of Africa's 54 countries to report the disease.
A U.N. worker who arrived in the country from Netherlands on Feb. 28 is ill with the disease, confirmed First Vice President Riek Machar and the U.N. mission in South Sudan. The patient, a 29-year-old woman, first showed signs of the disease on April 2 and is recovering, said officials.
South Sudan, with 11 million people, currently has four ventilators and wants to increase that number, said Machar, who emphasized that people should stay three to six feet apart from others. "The only vaccine is social distancing," said Machar.
The patient is under quarantine at U.N. premises and health workers are tracing the people who had been in contact with her, said David Shearer, head of the U.N. operations in South Sudan. He said he hoped the measures would contain the case.
To prevent the spread of the virus in South Sudan, President Salva Kiir last week imposed a curfew from 8:00 p.m. to 6:00 a.m. for six weeks and closed borders, airports, schools, churches and mosques.
AP report
Meanwhile, Chinese e-commerce mogul Jack Ma has announced a new round of donation to Africa. Ma and his foundation is partnering with Ethiopian PM Abiy Ahmed on this round too.
"Our second donation to 54 countries in Africa is on the way. That includes 500 ventilators, 200K suits & face shields, 2K thermometers, 1M swabs & extraction kits and 500K gloves," Ma posted on Twitter on Monday.
Other partners include include Ethiopian Airlines which has been doing the continent-wide deliveries and the African Union's Africa Center for Disease Control (Africa CDC) which is also headquartered in Addis Ababa.
Meanwhile as of Monday April 6, Africa's reported cases was nearing the 10,000 mark according to data from Africa CDC and the John Hopkins University.
Major stats as at April 6
Confirmed cases = 9,393Number of deaths = 445Recoveries = 906Infected countries = 51Virus-free countries = 3 (Sao Tome and Principe, Lesotho, Comoros)
READ MORE: Coronavirus statistics in Africa: Cases, deaths, recoveries[3]
April 4: Zimbabwe beer ban, AU leaders meet
Reports surfaced on Friday that Zimbabwe police had issued a ban on sale of beer under lockdown rules to help contain the coronavirus pandemic. The move attracted lots of social media criticism.
But late Fiday, state-run Heral newspaper reported that police had reversed the earlier statement banning alcohol sales saying supermarkets and registered bottle stores can now continue selling beer on condition it is consumed off the premises.
In a statement, national police national spokesperson Assistant Commissioner Paul Nyathi warned drinkers against gathering outside their homes.
Cameroon's tally 'boomed' on Friday when Health Minister Manaouda Malachie confirmed that 203 new cases had been recorded taking the national tally to 503 as of March 3.
READ MORE: Cameroon records 203 new cases as COVID-19 tally hits 509[4]
Meanwhile, African leaders have been holding virtual meetings to put together a continental response to the pandemic which has seen its statistics – cases, deaths, recoveries – growing in the last two weeks.
Rwandan president Paul Kagame called it a "productive conference call chaired by AU Chair President Cyril Ramaphosa," according to him, the discussions centered on the need to speak with a common voice and seek Africa's best interest.
"We discussed the need for Africa to stand together,speak with one voice and work through our institutions to mobilize resources and harmonize the support from international partners. Thank you to initiatives by African institutions such as African Development Bank and Africa Exim Bank for their support
"The meeting stressed the urgency & need to materialize all commitments swiftly and flexibly. Through coordinated action, we can succeed in mitigating the health and economic impact of COVID-19 on our population.
"The loss of and damage to life and economy globally and particularly in Africa is colossal….and so must be the amounts of energy and financial package(s) to bring things back to normal and beyond," Kagame wrote on Twitter.
Some African leaders who participated included Senegal's Macky Sall, Kenya's Uhuru Kenyatta, Zimbabwe's Emmerson Mnangagwa, DRC's Felix Tshisekedi, Mali's Ibrahim Boubakar Keita, Egypt's Abdel Fatteh Al-Sisi and Ethiopian Prime Minister Abiy Ahmed.
The African Union Commission chief Moussa Faki Mahamat and WHO boss, Tedros Ghebereyesus were also part of the meeting. "We were joined later by President Emmanuel Macron, a good partner for Africa," Kagame added.
The Namibian president on Friday disclosed that he had held talks with his Chinese counterpart as part of efforts to strengthen Africa's response to COVID-19. "I also expressed gratitude to President XI for China's support and care of over 500 Namibian students in Wuhan and China during this pandemic," Hage Geingob added.
Meanwhile South Africa's Health Minister says the country is formally going to seek assistance from Cuba and China on managing the pandemic. Nigeria also confirms that it is awaiting a medical team from China to support its response to the virus.
Source http://www.bing.com/news/apiclick.aspx?ref=FexRss&aid=&tid=FBA9EDF1047C483E81ECAEF51C5E7929&url=https%3A%2F%2Fwww.africanews.com%2F2020%2F04%2F06%2Fcoronavirus-updates-across-africa-africanews-hub%2F&c=11504818834843500091&mkt=en-ca