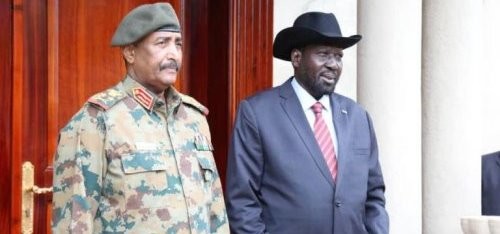 The East African regional bloc IGAD called on Friday for the lifting of sanctions against Sudan and South Sudan as the two countries transition towards stability.
Sudan was designated a state sponsor of terrorism in 1993 by the United States, cutting it off from financial markets, over reports that Omar Bashir's government was sponsoring terrorism.
The UN Security Council imposed sanctions against South Sudan due to more than five years of civil war. The sanctions include a ban on arms and trade in military technology, asset freezes and travel bans on eight individuals from within the government and militia groups who are reported to be destabilizing the world's youngest nation.
In a communique at the end of the 13th ordinary meeting held in Addis Ababa, Ethiopia, IGAD leaders called on the international community to "lift the crippling economic sanctions imposed on Sudan and South Sudan to enable them rebuild their economies."
They also urged the parties to the revitalised peace deal in South Sudan to accomplish the pre-transitional tasks within the extended hundred days and form a unity government by the end of the extended period.
The regional leaders commended the government and people of Sudan for transitioning into civilian rule and for their resilience and determination, and endorsed the role of South Sudan in mediating the Sudanese peace talks in the capital Juba.
The 13th summit, which was expected to deliberate on several issues including the status of the exiled opposition leader Riek Machar, deferred other agendas to the next ordinary meeting to be held in Khartoum.
In today's summit, representatives of IGAD member states elected Sudan's Prime Minister Abdalla Hamdok to take over as chairperson of the regional bloc for one year. The meeting also confirmed Ethiopian diplomat Workneh Gebeyehu as the new IGAD executive secretary.
IGAD is an eight-member economic bloc that brings together Ethiopia, Djibouti, Somalia, Sudan, Eritrea, South Sudan, Kenya and Uganda.
Source http://www.bing.com/news/apiclick.aspx?ref=FexRss&aid=&tid=5DAA2B797BAE4DD8A89D8BC2636F9D3F&url=https%3A%2F%2Fradiotamazuj.org%2Fen%2Fnews%2Farticle%2Figad-urges-lifting-of-sanctions-on-sudan-and-south-sudan&c=15417978529739811336&mkt=en-ca