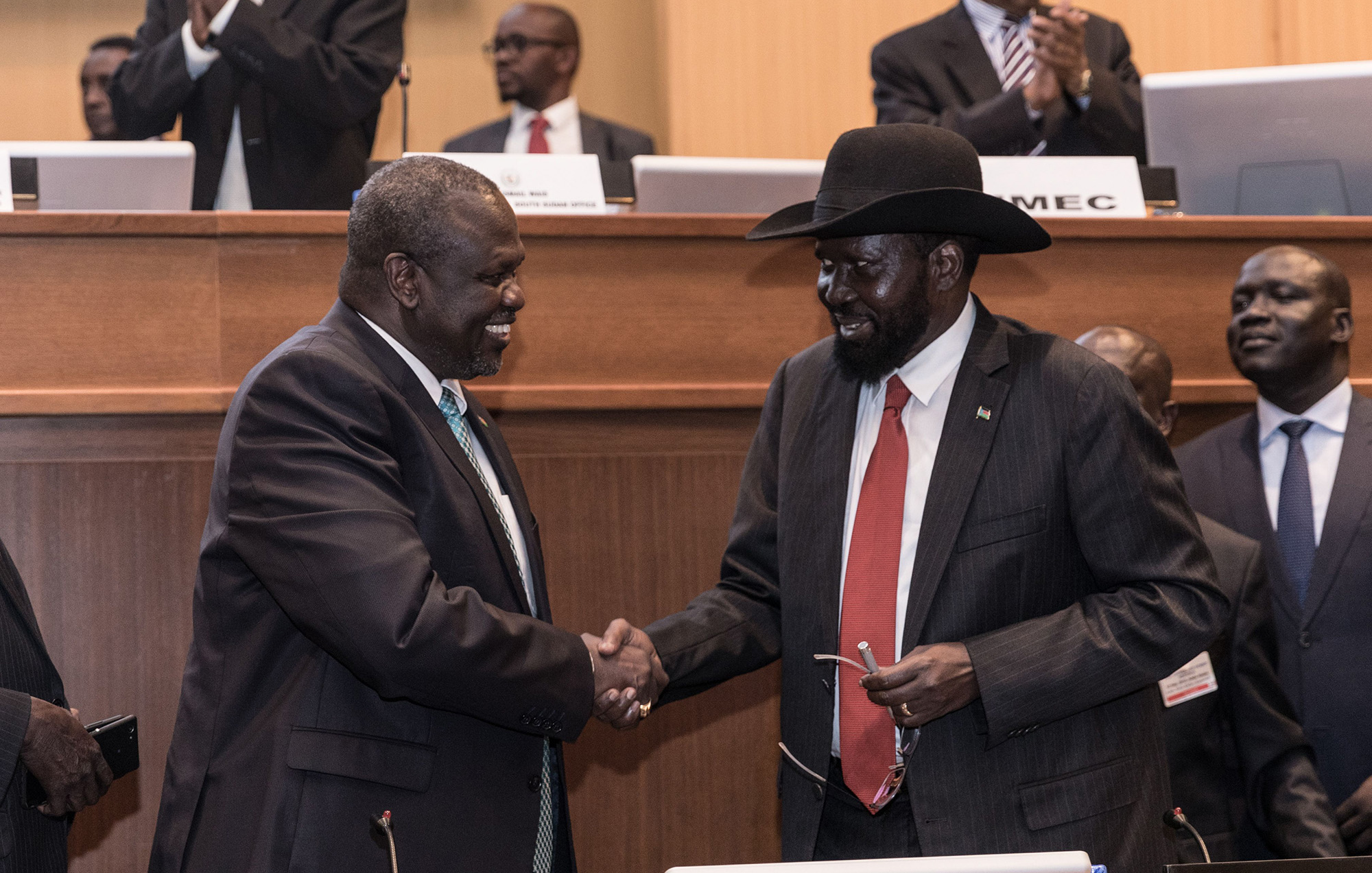 Riek Machar and Salva Kiir shake hands in Addis Ababa on Sept. 12, 2018. Photographer: Yonas Tadesse/AFP via Getty Images
Kenya's largest bank by assets, KCB Group Ltd., plans to increase investment in its South Sudan unit after riding out a five-year ruinous civil war in the oil-rich East African nation.
With a balance sheet of 32 billion South Sudan pounds ($203.8 million) KCB Souh Sudan Ltd. is reopening branches and introduced mobile banking to attract more customers, according Managing Director Roba Waqo Jaldesa. KCB has 122,000 customers and is targeting 200,000 by the end of next year, he told reporters in the South Sudanese capital, Juba
An agreement by President Salva Kiir's administration to share power with rebels led by Riek Machar, his former deputy, has calmed tensions in the nation with sub-Saharan Africa's third biggest crude reserves. The war claimed almost 400,000 lives, displaced four million others, and slashed oil production.
"We came to this country in 2006 as the first foreign bank and we have resiliently survived these challenges," Jaldesa said. "We have enough capital to invest in the market, both in brick and mortar and also in terms of technology. This year we have opened one new branch and we are looking forward to opening the ones we had temporarily closed."
KCB shut 12 of its 23 branches and fired scores of staff amid war-induced hyperinflation and foreign-currency shortages, a move that almost cost it its license.
The peace deal greatly improved the nation's economic outlook and the central bank expects output to expand 5% this year, underpinned by higher crude output and infrastructure projects.
"I'm confident that next year we will be strong in terms of economic growth because everything is now taking the right perspective and direction," Jaldesa said.
Source http://www.bing.com/news/apiclick.aspx?ref=FexRss&aid=&tid=4EE8A58F8EF841EC8A5C5E0C0AC88373&url=https%3A%2F%2Fwww.bloomberg.com%2Fnews%2Farticles%2F2019-08-08%2Fkcb-to-step-up-investment-in-south-sudan-as-nation-bounces-back&c=4670965673904718030&mkt=en-ca