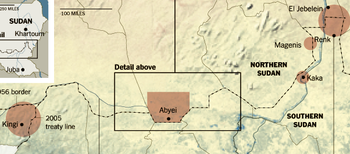 South Sudan is set to deploy police forces to the disputed border with Sudan to replace the army as efforts to push for border demarcation.
Both countries have yet to demarcate the common border. The two Sudans are also at odds over Abyei area.
South Sudan's information minister, Michael Makuei Lueth said the cabinet instructed the interior minister to deploy the police in the areas currently occupied by the army along the border with Sudan.
"This is what they call the borderline, the presumed border line between Sudan and South Sudan, which is supposed to be the temporary line for the establishment of the crossing points and the corridor," Makuei said after a cabinet meeting held in Juba on Friday.
He added, "The presence of the police forces in the demilitarized border zones will provide protection to the civilian population".
Makuei pointed out that the joint border commission will continue negotiating with Khartoum on the disputed border areas.
"Our forces have pulled out from some of the areas and some of the forces have not yet pulled out and so it was decided that the forces pull out of the safe demilitarized border zones," he said.
"The demilitarized zone allows the civil administration and the other regular forces to stay in the area to provide protection for the civil population," he added.
The border commission is a mechanism agreed upon by Sudan and South Sudan in the 2012 joint cooperation deal.
South Sudan gained independence from Sudan on July 2011 but border disputes have dragged on.
Source http://www.bing.com/news/apiclick.aspx?ref=FexRss&aid=&tid=459DB3A50B824387B7D6176FF2CA7375&url=https%3A%2F%2Fradiotamazuj.org%2Fen%2Fnews%2Farticle%2Fsouth-sudan-to-deploy-police-to-border-with-sudan&c=2741278911154501401&mkt=en-ca