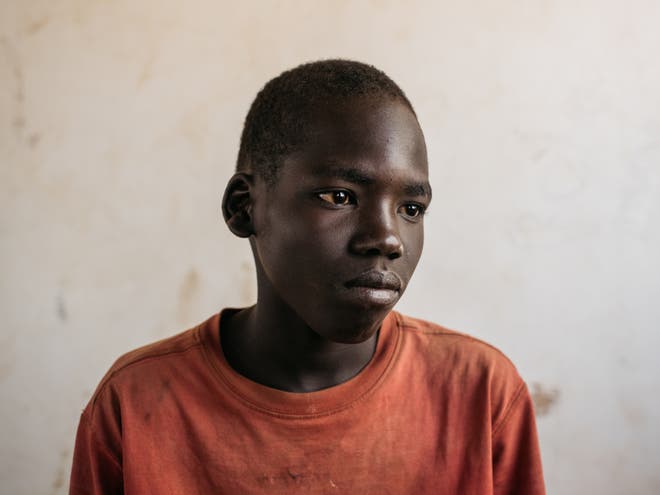 Kennedy was denied a normal childhood and instead became a witness to violence, torture and death in war
Moses Obama, 17, was living in Juba, the capital of South Sudan, when war broke out in 2016. He fled to his family home in the countryside, where he discovered that his father had been murdered and his mother was missing. An anti-government group called In Opposition (IO) had taken control of the village. Alone, grief-stricken and starving, he waited for his mother to return. But the prospect of a new family, not to mention a hot meal, was too hard to resist. With nothing left to lose, he joined the thousand-strong child army of the bush.
New recruits like Moses are separated from the rest of the group and taught the skills they need in military warfare and close combat to enable them to steal, maim and kill on demand. The children must then complete their "initiation": they are forced to execute a stranger, at point-blank range with a rifle. Often, recruits are made to kill a parent or a best friend. Moses was one of the lucky ones. He was rewarded with an AK47 machine gun.
Over the next two years, Moses rose up the ranks. "I had to kill so many people, innocent people from my country, I just stopped counting… so many," he says.
A brutal civil war has devastated South Sudan for nearly six years, with more than 400,000 casualties. In that time, Unicef estimates that more than 19,000 children have been drawn into these military groups. Adaptability, malleability and an underdeveloped ability to assess risk make children like Moses optimal recruits. Immersed in an environment of extreme violence, child soldiers are forced to commit unimaginable cruelty. Later, they become social outcasts, often suffering permanent psychological problems.
"These are children who have been coerced either by circumstance or by force to participate in groups that commit horrific acts," says Sharon Riggle, who works for the UN special representative of the secretary general for children and armed conflict. "It is our collective responsibility to see that they are assisted back into a peaceful life."
Riggle says the numbers are dramatic, and much higher than people think they are. "Despite heroic efforts by Unicef and others on the ground who provide help and safety on tight budgets to recently released children, there are still tens of thousands of children as we speak that need to access programmes but cannot, because there simply isn't funding available." Appropriate psychological care, healthcare and education are vital for the reintegration of children affected by war, she says.
Education is a casualty of the armed conflict not just for child soldiers, but for children all over South Sudan. Long and treacherous journeys to school navigating landmines, snipers and abduction are all commonplace. Institutions are deliberately targeted; schools are burnt down, teachers murdered.
Thirteen-year-old Kennedy Ima's parents were unwilling to send him to school with the threat of armed attack, abduction or recruitment by militias. He witnessed violence, torture and death. Displaced to Uganda, he was still held back from school, unable to fulfil his dream of becoming a doctor, as his family could not afford the shoes required for enrolment.
Today, 12 months later, Kennedy is back in school in the Bidibidi Refugee Settlement, thanks to an education programme set up by the Protect Education in Insecurity and Conflict (PEIC) member of Education Above All foundation and Artolution. The Global Citizenship Education (GCED) programme brings together artists, educators, children and youth from both the refugee and host communities. The workshops combine training on GCED, human rights and advocacy skills with art-based activities and the creation of collaborative murals.
Another foundation helping fragile communities affected by conflict transform to become peaceful, resilient and productive is the Whitaker Peace and Development Initiative (WPDI). The initiative was set up after Forest Whitaker won Best Actor at the 79th Academy Awards in 2009 for his role in The Last King of Scotland, which was filmed in Uganda.
"To be involved in making peace on the planet is amazing," Whitaker says. "Got to do something to be the better angel of it all. I care about it deeply, and to have the ability to help eliminate pain, conflict and violence is a privilege."
In South Sudan and Uganda, Peic supports WPDI's Youth Peacemakers Network (YPN) programme to empower and mobilise young people to become effective leaders and advocates in their communities.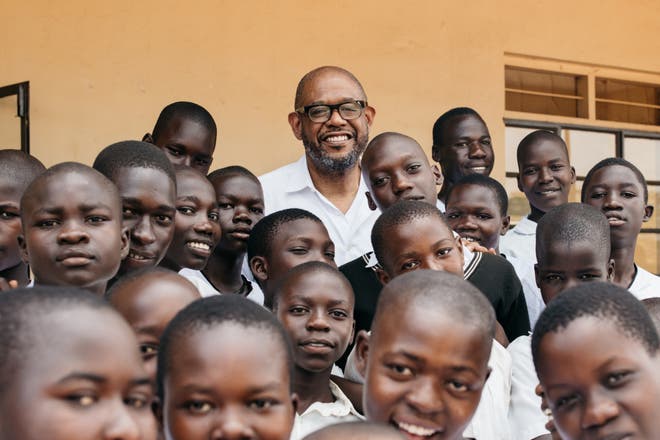 Forest Whitaker attends a school in Gulu, Northern Uganda
David Keji, abducted at nine years old by the Lord's Resistance Army in Northern Uganda, was too small and weak to carry his gun. Instead, he gripped it by the canvas strap and dragged it behind him in the dirt. Instead, he was made to stab victims and burn them alive in their homes.
At WPDI's Community Learning Centre in Gulu, David, now 22 and a graduate of WPDI's YPN Trainer of Trainees course, says that although he still hears the screams of his victims, the programme has saved his life, by empowering him to set up a business and attend university.
Today there are more than 8,000 children awaiting assistance in the Democratic Republic of Congo, thousands more in the Central African Republic and other countries. Recently, in South Sudan, children could only be released in tranches from rebel groups because there simply was not the infrastructure to support a release of all of them at the same time.
Rocco Blume, head of policy and advocacy at War Child UK, says: "These children are not receiving the attention they deserve. We want the global community to recognise the need for specialised, individual and long-term care to help them overcome their experiences, the stigma they face and successfully realise a future out of a group."
Significant steps are being taken by individuals and organisations to ensure that children in conflict are given the tools they need to rebuild their futures. The world simply cannot afford morally, financially or in any other way to allow these children to fall through the cracks. There is clearly still so much work to do, when the rehabilitation and reintegration of a child is as marginal as a pair of shoes.
Support free-thinking journalism and subscribe to Independent Minds


Protect Education in Insecurity and Conflict, a member of Education Above All, promotes and protects the right to education. It strives to support partners in education, international law and child protection – from monitoring attacks on students to restricting military use of schools and universities
Source http://www.bing.com/news/apiclick.aspx?ref=FexRss&aid=&tid=88119E86097649A69715D8DDBDC1FB17&url=https%3A%2F%2Fwww.independent.co.uk%2Fnews%2Flong_reads%2Fsouth-sudan-child-soldiers-civil-war-conflict-a8875071.html&c=16603789408223251917&mkt=en-ca