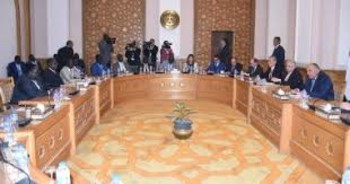 A high-level delegation of South Sudan peace partners on Monday arrived in Egypt to seek logistical support for security arrangements.
The delegation comprised of Tut Gatluak, Martin Elia Lomuro, Gabriel Changson, Peter Mayen Majongdit, Deng Alor Kuol and Puot Kang Chuol. The team is led by presidential adviser for security affairs, Tut Gatluak.
Peter Mayen Majongdit, member of the committee tasked with the oversight of the implementation of the activities of the pre-transitional period, confirmed to Radio Tamazuj Tuesday that they had arrived in Cairo.
"We came to follow-up on the pledges made by the Egyptian government during the peace celebration in Juba. They pledged to support us in the area of cantonment of forces and matters relating to security arrangements," he explained.
Majongdit says that implementation of the security arrangements deal still faces many challenges due to lack of funding." We need support for the security arrangement, especially the logistical part of it such as military uniforms and tents," he said.
The opposition official further said they will be meeting with officials from Egypt's government to lobby support for peace implementation in South Sudan. "Egypt is a strategic partner to South Sudan and its government is committed to support us," he said.
"As South Sudan leaders, we will look for support everywhere so that the peace agreement is implemented," he stressed.
Majongdit noted that much support for the security sector in needed urgently, as the issue of security arrangements remain blurred and not properly sorted out.
He pointed out that the parties plan to train a unified army before a new unity government is established in May 2019.
In September 2018, President Salva Kiir and several opposition leaders, including main opposition leader Riek Machar signed a peace agreement to end the conflict.
But the parties are now facing a time crunch and funds, as the agreement provides for a transitional government to assume power in May.
Officials told VOA's South Sudan in Focus last week that challenges in training unified armed forces will likely delay formation of a planned transitional government.
Source http://www.bing.com/news/apiclick.aspx?ref=FexRss&aid=&tid=5D8429DCA41B4D3DA37198EDBDF98E17&url=https%3A%2F%2Fradiotamazuj.org%2Fen%2Fv1%2Fnews%2Farticle%2Fsouth-sudan-delegation-in-egypt-to-lobby-support-for-security-sector&c=12533749042735260808&mkt=en-ca