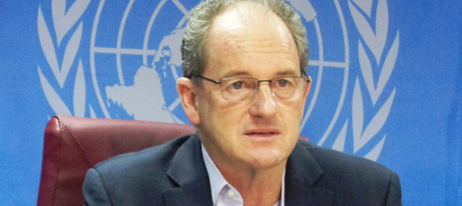 Humanitarian assistance is still needed in South Sudan to bridge the gap to self-reliance and support people intending to move home, a top United Nations official said on Friday.
"We should remember that tens of thousands of South Sudanese citizens, young and old, are alive today because of the generosity of donor nations and the heroic work of humanitarian agencies," said David Shearer, the head of the UN Mission in South Sudan (UNMISS).
"It is a reality that South Sudan's leaders often forget or take for granted that their country is supported by taxpayers around the world," he added while briefing the Security Council on South Sudan.
Tens thousands of people were killed and millions displaced in South Sudan's worst violence since 2013.
Last year, Shearer said, donor nations gave lifesaving support of over $1 billion, which is more than twice South Sudan's state budget.
"This enabled humanitarian agencies to deliver assistance to 5 million people, or 83 per cent of those they had targeted," he said.
This year's target is $1.5 billion to reach 5.7 million people.
According to the top UN official, albeit humanitarian agencies have largely been able to move freely across South Sudan, in some areas like Yei River State, particularly where there is conflict and civilians have been most vulnerable, denials have occurred.
Meanwhile, Shearer warned that there are just two months to go until a transitional government, which shall include representatives from the main opposition faction, is scheduled to be established.
A failed peace process, he said, could witness a return of violence.
"The cost of failure is unthinkable. So, while responsibility lies primarily with the parties to the conflict, it also is beholden on us all to ensure that we move forward together to make this agreement a reality for the sake of the people of South Sudan," stressed Shearer.
An estimated 135,000 refugees, he further said, have returned and many of those displaced internally signaled they want to go home.
"That's the positive side. The significant challenge now is to maintain the momentum of the peace process," he added.
In September last year, South Sudan's arch-foes signed a peace agreement to end a civil war that killed tens of thousands of people and displaced millions. A new unity government is expected to assume power in May 2019 before elections three years later.
Source http://www.bing.com/news/apiclick.aspx?ref=FexRss&aid=&tid=816235F4DAE84883B5670DBC6AA2A550&url=https%3A%2F%2Fradiotamazuj.org%2Fen%2Fv1%2Fnews%2Farticle%2Fsouth-sudan-needs-to-be-supported-says-un-official&c=4461249620988286864&mkt=en-ca