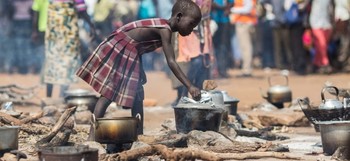 A young refugee from South Sudan cooks food at the reception centre in the newly established Pagarinya 2 camp in Adjumani District, in northern Uganda. © UNHCR/Will Swanson
A South Sudanese civil society organization says it intends to train 50 journalists on refugees, Internally Displaced Persons (IDPs) and returnees' issues enshrined in the peace agreement.
Edmund Yakani, executive director of the non-profit Community Empowerment for Progress Organization (CEPO) said the training, to be held from 14-16 January, will equip journalists with skills for accurate reporting on refugees, IDPs and returnees' concerns in the peace deal.
"It is aimed at enhancing capacities of South Sudanese journalists on accurate reporting on refugees, IDPs and returnees concerns in accordance with the implementation of the Revitalized Agreement on the Resolution of Conflict in South Sudan," said Yakani.
The project, he said, was designed by CEPO's program of partnership with journalists on R-ARCSS with the objective to empower journalists with knowledge and skills to accurately report on refugees, IDPs and returnees during the R-ARCSS implementation.
South Sudan's violent conflict, which started in December 2013, has created over 2.2 million refugees who have sought safety in Uganda, Sudan, Ethiopia, Kenya, the Democratic Republic of the Congo (DRC) as well as the Central African Republic (CAR).
According to the United Nations refugee agency (UNHCR), there are at least1.9 million people internally displaced inside South Sudan.
"Through various survey reports of CEPO, it was realized that majority of the journalists have inadequate knowledge and skills on reporting on refugees, IDPs and returnees matters accurately," Yakani said.
Source http://www.bing.com/news/apiclick.aspx?ref=FexRss&aid=&tid=F9ABF26AD9204EFA8A98C1B30665BB07&url=https%3A%2F%2Fradiotamazuj.org%2Fen%2Fnews%2Farticle%2Fsouth-sudan-civil-society-body-to-train-journalists-on-refugees-idps&c=16743414357317191547&mkt=en-ca