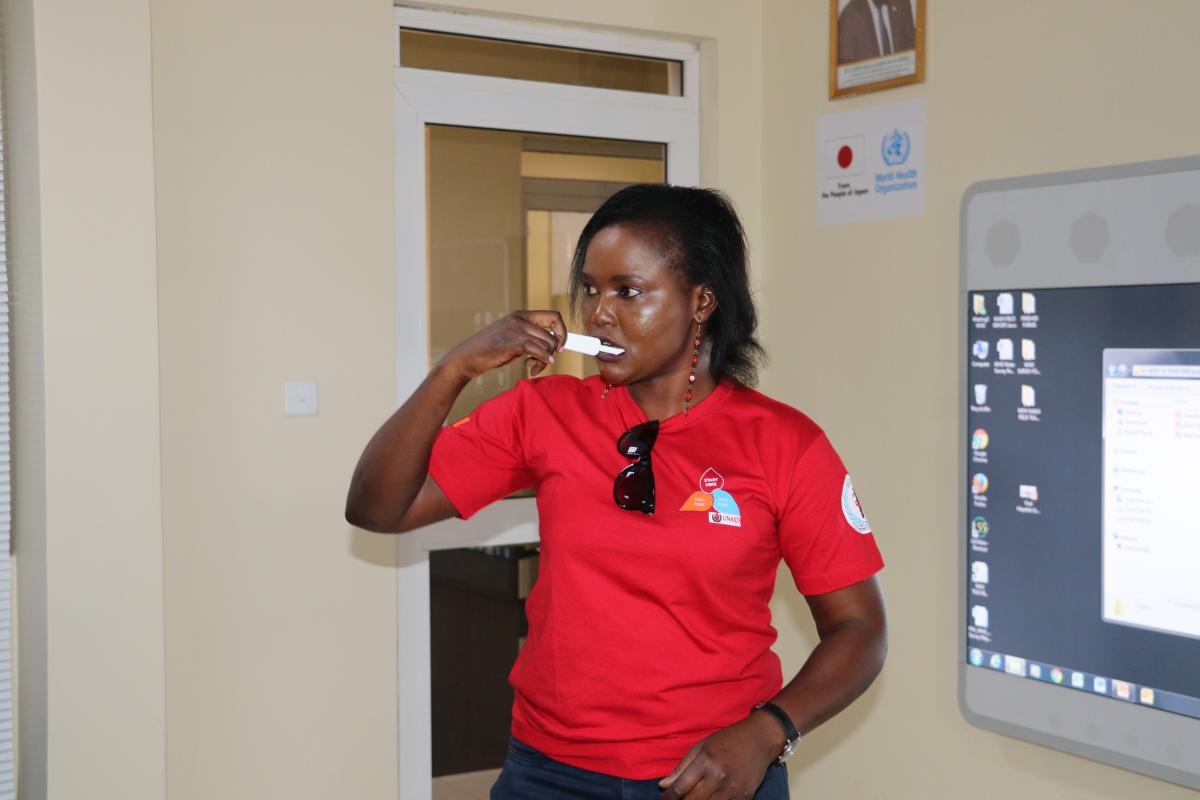 Ms Betty Araba of UNAIDS swabbing her mouth for an oral fluid sample for self-testing
Juba, 1 December 2018 – Under the theme "Know your status", South Sudan has joined the rest of the world to celebrate the 30th anniversary of World AIDS Day (WAD30) –a pioneering global health campaign first initiated by WHO in 1988.
The event was kicked off on 28 November 2018 with television and radio talk shows in Juba. Progress, gaps and challenges in HIV prevention, the evolving global treatment situation and the situation in South Sudan and achievements so far related to scaling up access to treatment were discussed in different fora.
On 30 November 2018, among the events leading to the WAD30 celebration held at the Public Health Emergency Operations Centre (PHEOC) in Juba and was graced by the presence of Dr Lul Deng Lojok, the Director General at the National Public Health Laboratory, officials from the Ministry of Health, WHO, UNAIDS, Ministry of Education, University of Juba, Teaching hospitals, implementing partners, private practitioners, civil society and people living with the disease among others. The occasion was used to enlighten the public about the advancements in the field of HIV in 2018 including HIV self-testing, transition to newer and better treatments for HIV and Viral Hepatitis.
The "Know your status" theme should also go beyond HIV services. People should not test positive for HIV and receive treatment, only to die of Tuberculosis (TB), due to poor access to diagnosis among people living with HIV, said Dr Moses Mutebi Nganda, Medical Officer for HIV/AIDS.
Globally approximately 1 in 3 deaths among people with HIV is caused by TB. And around 5 million people are living with both HIV and viral hepatitis, with most of these people unaware. Further, non-communicable diseases, such as heart disease, affect at least 1 in 3 people living with HIV.
The future success of the HIV response requires looking beyond HIV care and empowering better linkages with broader health care. Doing so can help people with and at risk of HIV access the care they need – be it for TB, mental health, hepatitis or another disease. This strategy can help the world get on track to not only end HIV, but also achieve "health for all" by 2030.
On its 30th anniversary, the World AIDS Day campaign reminds us that we should not become complacent in our response to HIV, said Dr Lojok. More than 80% of the people living with HIV in South Sudan still lack access to treatment and have unsuppressed infections.
In South Sudan, nearly 14 000 people contracted HIV in 2017. An estimated 70% people living with HIV still do not know their status. Almost 150 000 people living with HIV do not have access to antiretroviral therapy. This reinforces the urgent need for HIV prevention and treatment services for all who need them.
As we move towards ending AIDS by 2030, WHO will continue to support the government to ensure universal coverage for HIV by ensuring: the integration of HIV services with services; scaling up and integrate HIV treatment, prevention of mother to child transmission of HIV, HIV testing other HIV services; access to high-quality services including HIV diagnostic services; access to affordable and long-term care; strengthening health system as well as promotion of "zero tolerance" policy towards stigma and discrimination within the health sector, including for people living with HIV, to ensure no one living with, or at risk of HIV, is left behind.
Source http://www.bing.com/news/apiclick.aspx?ref=FexRss&aid=&tid=399EBA0B92AE428E86FC8849B8C13793&url=https%3A%2F%2Fafro.who.int%2Fnews%2Fsouth-sudan-commemorates-world-aids-day-2018&c=17157365573931731987&mkt=en-ca