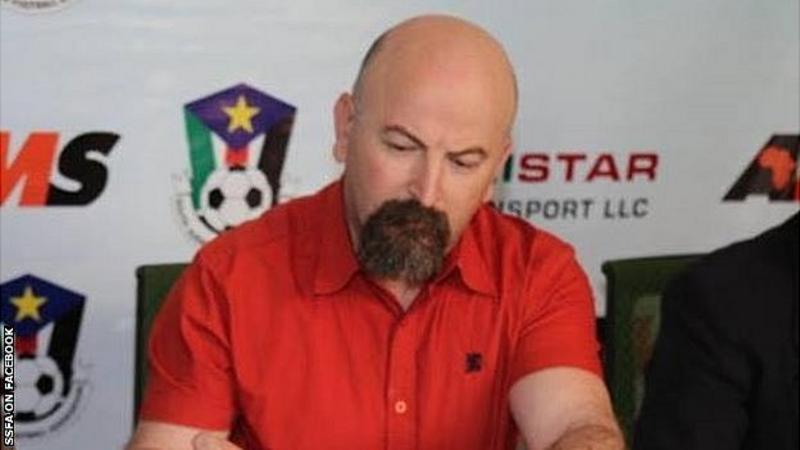 Ahcene Ait Abdelmalek has also managed Burundi and Djibouti
Ahcene Ait Abdelmalek has quit as head coach of South Sudan's national team due to questions over his team selection by football association officials.
The Algerian born German coach signed a two-year contract[1] with the South Sudan Football Association (SSFA) in March this year
"They (unspecified officials in the SSFA) interfere and say this player must play and this player should not play, and why is this player not playing?" he told BBC Sport.
The SSFA declined to comment immediately on the matter, saying they will issue an official statement concerning the resignation in the next few days.
He went on to say that he hopes the team can continue to improve in the future.
"I know that one day every country that I have gone to and where I have worked, whether I decide to stay or to go, things change positively, and I am sure that South Sudan will move forward," he added.
"My decision to resign is a good decision; perhaps it will bring a positive change.
"Perhaps I have disturbed people here. Perhaps the others would say I am on the side of the truth and others would say they are on the side of truth."
Abdelmalek, who has also had stints in charge of Burundi and Djibouti, was in charge just one competitive game with the senior team, a 3-0 loss to visiting Mali earlier this month in a 2019 Africa Cup of Nations qualifier.
He also oversaw the under-20 side that lost 8-1 on aggregate to neighbours Uganda in March in the opening round of qualifiers for the Under-20 Africa Cup of Nations.
South Sudan's next matches are in mid-October when they travel to play Gabon and then host them a few days later in Nations Cup qualifying.
Bright Stars are bottom of Group C for 2019 qualifying without a single point so far from two games having lost 3-0 to Burundi prior to the loss to Mali.
Source http://www.bing.com/news/apiclick.aspx?ref=FexRss&aid=&tid=DC61460112044EB6B76ADF050EDD04A0&url=https%3A%2F%2Fwww.bbc.co.uk%2Fsport%2Ffootball%2F45664686&c=10842091484649436831&mkt=en-ca