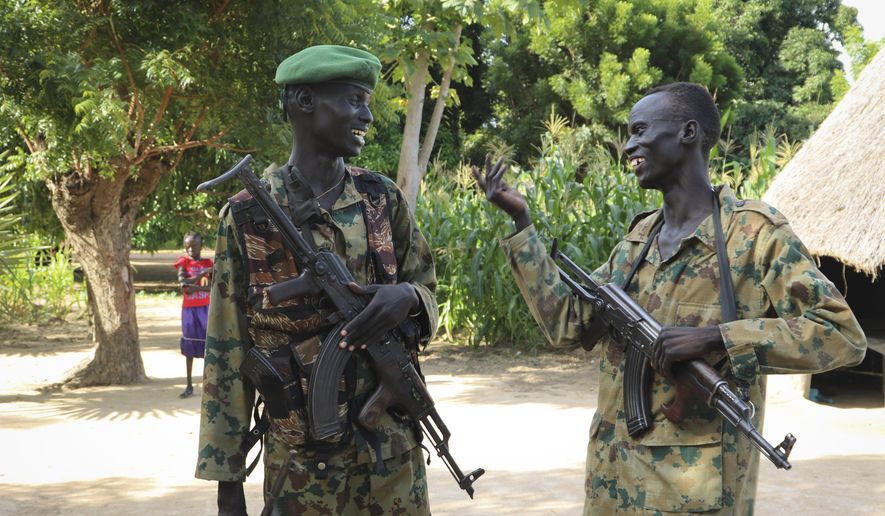 Opposition soldiers chatted outside their base in Unity state. The South Sudanese government claims a shattering five-year civil war is finally over, but skepticism remains high. (Associated Press/File)
JUBA[1], South Sudan — John Achiek Mabior lost his father in his country's five-year-long civil war. Given where the country is today, the son says his father in some ways may have been the lucky one.
"He was shot on his left thigh and later died of the gun wound," said Mr. Achiek Mabior, a 30-year-old Juba[2] resident. "Many lives have been lost since the war started. People are suffering because there's no provision of basic needs by the government."
The world's youngest nation, midwifed with a major assist from U.S. diplomacy and dollars in 2009, is already at a crossroads, struggling for a small respite of stability to address a rising tide of social problems. Despite South Sudan's moribund economy, tribal conflicts, periodic famines and other hardships, Mr. Achiek Mabior insists he is hopeful about the latest peace deal, signed last month by President Salva Kiir[3] and his longtime rival, former Vice President and now rebel leader Riek Machar.
"I am overjoyed because peace has finally been restored in our country, and this means we will now rebuild our lives and people will live in harmony," he said.
Mr. Kiir[4] and Mr. Machar signed the deal in Ethiopia on Sept. 12, but skeptics note that it was not the first time they had reached a truce. Fighting re-erupted after previous deals. Although violence has continued in various parts of the country in recent weeks, South Sudanese officials said fighting reflected local conflicts rather than a resumption of the civil war.
This time, South Sudan watchers say, could be different. Eight countries in the region as well as the African Union[5] are serving as guarantors of the peace. The deal also includes more extensive power-sharing provisions than previous agreements.
"The process allowed for those who didn't have an opportunity to have their voices heard to begin putting across their various viewpoints," said South Sudanese Vice President Taban Deng Gai told the U.N. General Assembly last month.
The optimistic message is proving a tough sell in Washington despite the intimate U.S. involvement in establishing the country. Mr. Deng Gai's defense of the latest peace deal got a frosty reception at a closed-door briefing for current and former U.S. officials last week at the Atlantic Council think tank, according to an account of the session on ForeignPolicy.com.
"Don't attack [the peace deal]," Mr. Deng Gai pleaded at the presentation, according to ForeignPolicy.com. "Don't understand it with the frame of mind of a Westerner or an American frame of mind. We are still a Bedouin society where accommodation also is important. Accommodation also brings peace."Juba[6] have suffered so much that they had to be optimistic or else give up all hope. It has become increasingly clear that no one faction can win the war, she said.
"As women of South Sudan, we have suffered enough," Ms. Amer Manyok said. "Enough is enough. This is a time we now need to implement this peace agreement fully."
A State Department-funded study found that almost 400,000 people died in the civil war. Half of them died in fighting. Disease, a lack of health care and other disruptions to public services killed the rest.
Amnesty International released a report last month accusing government forces of carrying out war crimes in the northern state of Unity, a rebel stronghold. The report described soldiers burning civilians alive, slamming children to death against trees and other horrors.
Working together
Under the deal, Mr. Machar will regain his position as vice president. Ms. Amer Manyok felt that move could satisfy rebels and potentially rein in rampaging government soldiers.
"This [fact] alone has given us a lot of hope and faith that the president and opposition leader will work together," said Ms. Amer Manyok, who chairs the Women's Bloc of South Sudan, a loose coalition of local groups campaigning for women's rights. "So I think now enough is enough for them, and this is why I think they will implement this peace."
Dennis Scopas, another Juba[7] resident, argued that the eight-month transitional period in the pact would help the parties rebuild trust as they implement the agreement in the next three years.
"The eight months will address a lot pending issues such as the number of states, bills and permanent constitution," Mr. Scopas said.
University of Juba political scientist James Okuk also predicted that the agreement would hold, if only because both sides are too exhausted and broke to keep up the fight.
"People are tired of war, and you can't mobilize young people anymore to go and fight the massive war like they used to do," Mr. Okuk said.
The government is also running out of cash amid punishing sanctions imposed for human rights abuses perpetrated during the fighting, Mr. Okuk said. Mr. Kiir[8]'s rebels are finding it hard to sustain their effort after years of fighting, especially since they have been forced to cross into neighboring countries and must elude foreign forces.
"Survival outside in the neighboring countries is very tough for the opposition," said Mr. Okuk. "Both the warring parties are facing tough economic sanctions directly or indirectly, and those sanctions don't allow them to pursue war further."
The African Union[9] wants to make a test case of South Sudan to showcase the bloc's ability to end wars and rebellions in Africa in the next two years. "The African Union[10] wants to see to it that this war comes to an end," he said.
Many here share the skepticism in Washington.
Atem Simon, a Juba[11]-based journalist, expressed little faith in the African Union[12] or anyone else to guarantee any peace deal. The AU's promises haven't held up in the past, he said.
"The lack of the international community's political will and financial support toward the South Sudanese leaders will hinder the implementation of the deal," Mr. Simon said. "It is not going to lift people's suffering."
But Thomson Fontaine, a citizen of Dominica who is deputy chief of staff of the Joint Monitoring and Evaluation Commission, which is monitoring the peace deal, said he hoped renewed oil pumping would help revitalize the country's economy and convert skeptics.
"Full compliance to the agreement is very critical to build confidence and provide an enabling environment for the much-needed focus on the growth of the economy, among other things," Mr. Fontaine said.
The Washington Times Comment Policy
The Washington Times welcomes your comments on Spot.im, our third-party provider. Please read our
Comment Policy
[13]
before commenting.
Source http://www.bing.com/news/apiclick.aspx?ref=FexRss&aid=&tid=4769FE062FF44E579E9E9C0FE889B64E&url=https%3A%2F%2Fwww.washingtontimes.com%2Fnews%2F2018%2Foct%2F8%2Fsouth-sudan-hopes-civil-war-peace-deal-holds-time%2F&c=4374221193442823569&mkt=en-ca