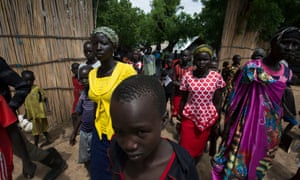 The United Nations has accused South Sudanese government forces and allied militias of potential "war crimes" over a campaign of rape and killing that targeted civilians in opposition-held villages in the conflict-torn country.
According to the UN human rights office, at least 232 civilians were killed and 120 women and girls raped[1] during an offensive between 16 April and 24 May in the country's Unity state, with three commanders identified as bearing the "greatest responsibility" in the violence.
Among the victims was a six-year-old who investigators say was gang-raped by soldiers, and elderly and disabled villagers who were burned alive in their huts.
The UN report will increase pressure on the international community – not least the US – to impose fresh sanctions[2] against senior figures in South Sudan over continuing serious human rights abuses.
It echoes allegations[3] of serious human rights abuses made to the Guardian last month by villagers fleeing the fighting, as well as reports by human rights groups.
Last month during a visit to the area of the attacks, survivors – who had fled across the Sudd marshes – detailed to the Guardian how villagers, including elderly residents, had been burned alive in their homes. The accounts were confirmed by an investigation conducted by the Human Rights Division of the UN mission in South Sudan[4].
The report describes how 40 villages were attacked during the period in question by the government's SPLA and associated forces, during which 120 girls and women were raped or gang-raped.
While opposition forces were also accused of killings, the report suggests it was on a far smaller scale.
According to the researchers: "Victims and witnesses also informed [investigators] that after taking control of villages, the attackers forced the survivors to give them money.
"Those who did not comply immediately were reportedly beaten or killed by hanging also to terrorise the population further and force survivors to comply. [The Human Rights Division] documented 25 killings of women by hanging in 10 villages.
"According to information received, children, elderly, sick and persons with disabilities unable to flee, were often burned alive, as the attackers set ablaze their tukuls [huts] with lighters, or they had their throats slit. [UN investigators] documented the killing of 63 such individuals, in 17 villages."
I was still bleeding from labour, but a soldier raped me

20-year-old from Leer County
As well as killings, the report recounts in graphic detail allegations of mass rape during the campaign.
Among those interviewed was a 20-year-old woman from Leer county, who described women being shot by pro-government forces for resisting rape.
"My village was attacked early in the morning," she recounted. "I managed to run and hide in the bush with my three-day-old baby. I returned in the evening before sunset thinking that the attackers were gone, but a group of SPLA soldiers and youth found me and my baby.
"I was still bleeding from labour, but one of the soldiers raped me. I kept quiet and did not resist as I saw other women being shot dead for refusing to have sex with the soldiers and youth."
The UN High Commissioner for Human Rights, Zeid Ra'ad Al Hussein, called on South Sudan's government to halt all attacks against civilians, launch investigations and hold the perpetrators accountable.
"The perpetrators of these revolting acts against defenceless civilians, including those bearing command responsibility, must not be allowed to get away with it," Zeid said.
"There must be consequences for the men who reportedly gang-raped a six-year-old child, who slit the throats of elderly villagers, who hanged women for resisting looting, and shot fleeing civilians in the swamps where they hid.
"Those who ordered and facilitated these horrific crimes must be brought to account. The government of South Sudan and the international community have the obligation to ensure justice."
The UN mission in South Sudan said on 17 May it was sending 150 peacekeepers to protect civilians being targeted in clashes between the government and rebel troops in Unity state, which hosts abandoned oil fields.
There was no immediate reaction to the report from the Juba government.
Source http://www.bing.com/news/apiclick.aspx?ref=FexRss&aid=&tid=7A04AC22AF5F41F6B5088BFFBEB2FE0A&url=https%3A%2F%2Fwww.theguardian.com%2Fglobal-development%2F2018%2Fjul%2F10%2Fsouth-sudan-government-forces-accused-potential-war-crimes-horrific-acts&c=8053189337255286564&mkt=en-ca