Unaccompanied minors who fled civil war in South Sudan draw during a vist of United Nations Secretary General at Imvepi settlement camp in northern Uganda Antonio Guterres June 22, 2017.Photo Credit: James Akena
David Morley has a message for Canadians: "Don't give up on South Sudan!"
The international community cannot just throw up its hands and walk away from the crisis in South Sudan both morally and politically, no matter how hopeless the situation on the ground appears right now, says the UNICEF Canada President and CEO, who returned from a trip to the world's youngest nation last week.
"I think we have to be there as humans, helping out our fellow humans who are suffering such incredible acts of violence as well as just not having enough food to be able to grow healthily," Morley said in a phone interview from Toronto.
The situation in South Sudan is "almost indescribable," Morley said.
Not just a band aide
"There are roughly 12 million South Sudanese and four million of them have had to flee their homes and half of the people in the country don't have food security, they can't be sure where their next meal is coming from," said Morley.
And now the ongoing crisis in South Sudan threatens to destabilize neighbouring countries such as Uganda, which has received nearly one million South Sudanese refugees, fleeing the fighting between the government of President Salva Kiir and the rebels led by ousted Vice-President Riek Machar.
"You know some people will say, 'Oh, this is just a band aide, until this thing stops, it's just a band aide,'" Morley said. "But I know that if I cut myself, I want a band aide. I know it's not going to be the cure, but it will keep me going until things get better."
(click to listen to the full interview with David Morley)
Listen
[1]
EN_Interview_3-20171030-WIE30
[2]
A protection camp for displaced civilians is seen from a plane in Bentiu, South Sudan June 18, 2017. The camp has become South Sudan's second largest city, according David Morley of UNICEF Canada.

©

Reuters Staff
During his trip to check up on Canadian funded projects, Morley said he visited the nation's capital, Juba, and the northern town of Bentiu, a refugee camp that has become the country's second largest city.
UNICEF and its partner agencies are providing life-saving services in the city, which is protected by a UN peacekeeping force, Morley said.
"If some of our colleagues who are teachers, social workers and nurses, if they were to leave this protected area, they're live would be at risk," Morley said. "But they're staying in these areas and they're doing everything they can for their people. It's very inspiring to be part of this effort."
Learning to live side by side again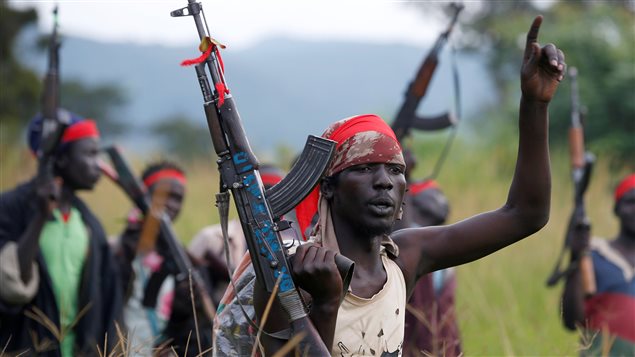 SPLA-IO (SPLA-In Opposition) rebels hold up guns in Yondu, the day before an assault on government SPLA (Sudan People's Liberation Army) soldiers in the town of Kaya, on the border with Uganda, South Sudan, August 25, 2017.

©

Siegfried Modola
There seem to be no end in sight to the ongoing crisis and the civil war that has split South Sudan along ethnic lines, Morley said.
"Until the leadership realizes that fighting ultimately is not going to be a way to strengthen their country, I'm afraid it's going to go on," Morley said. "In the meantime it's the vast majority of the population that is suffering and through no fault of their own."
The two belligerent ethnic groups the Nuer and the Dinka will have to learn to live side by side again, Morley said.
"Eventually they will have to recognize and remember how they were when the country started," Morley said.
Source http://www.bing.com/news/apiclick.aspx?ref=FexRss&aid=&tid=4D9D2DE58A3F42B49BFBE8563ED7DB54&url=http%3A%2F%2Fwww.rcinet.ca%2Fen%2F2017%2F10%2F30%2Fpeople-of-south-sudan-still-need-our-help-unicef%2F&c=2591243116763571172&mkt=en-ca