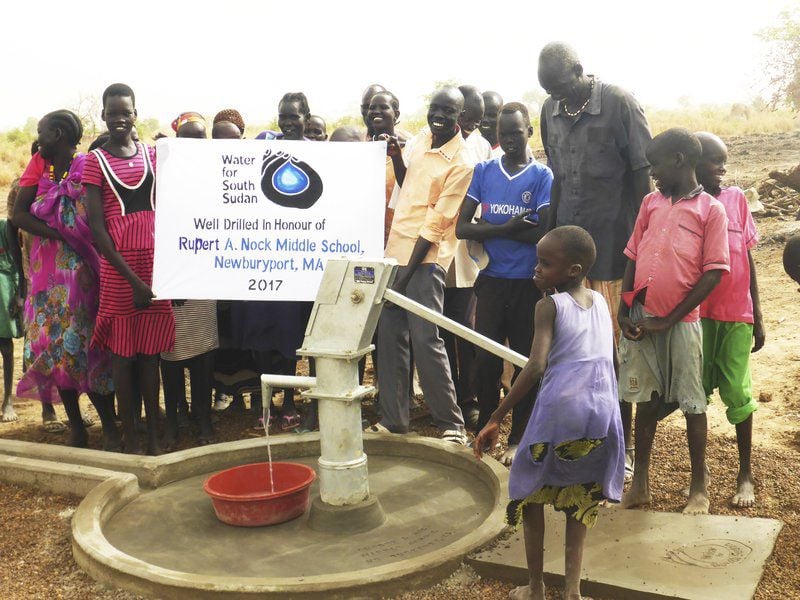 NEWBURYPORT – Staff and students at Rupert A. Nock Middle School recently received an online payoff following a major fundraising project: a photo of a new well in South Sudan, financed by the efforts of those at the school.
This is the second well that Nock has made possible in that arid country, and everyone is happy.
"The students are very pleased," said Ellen Menesale, a school librarian who helped supervise the project. "They have studied about a shortage of water in parts of the world and they have worked hard to raise money to help.
"We love the photo because it mentions Nock and the students here."
Nock has actually been responsible for the drilling of two wells in South Sudan. Students have raised $30,000 in the past several years to enable both wells to be drilled.
Students have been inspired in part by the life of Salva Dut, who earned initial fame as one of the Lost Boys of Sudan. This refers to thousands of boys and girls from rural southern Sudan who fled to neighboring Ethiopia and Kenya in the mid-1990s and later to escape political violence and civil war.
Large groups of Sudanese – most of them children – fled on foot, and survivors said there was little food or water.
Dut lived through the exodus, was taken in by a humanitarian group and resettled in Rochester, New York, where he learned English and developed a plan for the future.
As an adult, he returned to South Sudan and organized a foundation to provide potable water for villages in the parched region.
Nock organizers said Dut spends about 11 months each year in his homeland, and comes to the United States occasionally to raise money and spread the word that many African countries need help.
Dut visited Nock in November.
"Our young people aren't like you," he said. "You eat three times a day, have plenty of water and go to school. Ours eat once a day, maybe twice, though they don't complain. I am pleased to see that you students here are showing leadership in helping us make good water available, and giving our kids better opportunities."
His organization, Water for South Sudan, has helped drill more than 280 wells since 2005, organizers said.
A well drilled this spring bears the name of Nock Middle School.
"The students were very happy to see the picture of the second well," said Elizabeth Carroll, a sixth-grade teacher and organizer. "Last fall, they were thrilled to see Dut.
"They read about him in the book, 'A Long Walk to Water,' and it was exciting to actually meet him. He was humble and gracious," she added.
"They have learned a lot from reading about the water crisis, raising money, meeting Salva Dut, and now seeing a well that they helped create. We are proud that we were able to help."
Nock principal Lisa Furlong wrote in her in-house blog, "We recently received confirmation from the Water for South Sudan Project that a second Rupert A. Nock Middle School water well has been drilled.
"Many thanks go out to Nock students and staff whose community service and curriculum projects have explored issues of water, geography and the history of Sudan. It is exciting to see students and families in Sudan benefiting from our studies."
Dyke Hendrickson covers Newburyport. He can be reached at 978-961-3149 or This email address is being protected from spambots. You need JavaScript enabled to view it.[1].
References
^

This email address is being protected from spambots. You need JavaScript enabled to view it.

(www.bing.com)
Source http://www.bing.com/news/apiclick.aspx?ref=FexRss&aid=&tid=17751C7D7B7C40629BC2F398ECB868E5&url=http%3A%2F%2Fwww.newburyportnews.com%2Fnews%2Flocal_news%2Fnock-efforts-bring-second-well-to-south-sudan%2Farticle_822cc3b7-9817-54e0-ab22-b65ecc6e7d50.html&c=16808270273427696527&mkt=en-ca