09/19 2008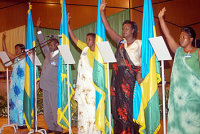 Rwandan women are making strides; their percentage now in parliament is above the half. They have overtaken men. My angle is not over who defeats who, but it is on the women of Rwanda, because, with determination they managed to translate their slogans into actions.
I visited Rwanda shortly after the genocide and went into the museum of the skulls. I also visited churches and sites where people were massacred. It was heartbreaking. I thought Rwandan women had to wait for ages until they rise. In no short a time, they managed to heal and to look forward for a better Rwanda where voices of women count for; and together with men the nation is lifted high.
I congratulate the women of Rwanda as well as the men and their entire government on this success. Women are competing seriously, but this is a competition with a purpose. I encourage the men to motivate those women, support them and together they can make a difference. The ugly face of genocide is turning into a beautiful face of development and reconstruction for all.
I want to urge the Sudanese women to emulate and move forward. They are OK so far, but they should keep ascending for more representation come elections.
God always has a message.
Rebecca Okwaci
---
KIGALI (Reuters) - Rwanda's ruling party looked set for a landslide win on Wednesday in elections to a parliament in which more than half the seats are likely to be filled by women, officials said.
In provisional results of voting that began on Monday, the Rwandan Patriotic Front (RPF) won 42 of the 53 seats up for grabs. It was the country's second legislative polls since the 1994 genocide.
"The elections have so far been characterized by harmony and peace," Chrysologue Karangwa, chairman of the National Electoral Commission, told reporters in the capital Kigali.
Rwanda already had one of world's highest proportions of female parliamentarians, with 44 percent of seats in the last legislature occupied by women.
Karangwa said that was set to increase. "Though we have not yet got full results, it's clear women representatives will be more than 50 per cent," he said.
That would make Rwanda the only country in the world where women outnumber men in parliament.
Runners-up in Monday's vote were the Socio-Democratic Party, with seven seats in the 80-seat parliament, and the Liberal Party with four, according to the provisional results.
A further 27 parliamentary seats will be assigned through indirect elections this week. Rwanda has 4.7 million registered voters out of a population of more than 9 million.
Rwanda has achieved relative peace and prosperity since the genocide, when about 800,000 minority Tutsis and moderates from the Hutu majority were killed in just 100 days of bloodshed.
Since the genocide, the government has put in place initiatives to encourage women to enter politics. Some Rwandans say their numbers in parliament reflect disenchantment with the country's male, genocide-era politicians.
The RPF won three-quarters of votes in the first post-genocide parliamentary polls in 2002.
President Paul Kagame, a former rebel whose forces ended the slaughter, is credited by supporters with restoring order and fostering healthy economic growth, especially in new sectors like IT.
Critics say his authoritarian leadership hampers democracy.
This month, the World Bank hailed reforms in Rwanda that it said had helped the coffee-growing country climb nine places in an annual survey on the ease of doing business.
Rwanda was the fastest reforming economy in a region that is increasingly of interest to emerging markets investors, it said.
(Writing by Daniel Wallis; editing by Andrew Roche)