09/01 2008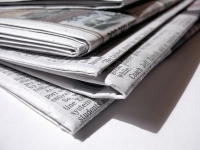 JUBA, Sudan, Sept 1 (Reuters) - Two Sudanese English-language newspapers were suspended on Monday for employing journalists seen as hostile to the government, their owners said.
William Ezekiel, owner of the Sudan Tribune, and Nhial Bol, owner of The Citizen, said Sudan's media regulator the National Press Council had suspended their publishing licenses -- effectively shutting down the daily papers until further notice.
The National Press Council on Monday confirmed the suspensions but insisted the decisions had been taken for "administrative" not political reasons.
A spokesman for the regulator said the papers had been suspended because their editors were not based in Khartoum, as was required by their licences.
The papers had also failed to send the regulator a copy of each day's paper, he added.
"The decisions related to an administrative issue, not a political one," he said, adding the suspension would be lifted as soon as the editors complied with regulations.
Both papers are distributed nationally, but owned by businessmen from south Sudan, which became a semi-autonomous region after a 2005 peace deal ended two decades of civil war with the north.
The 2005 peace deal guaranteed freedom of the press in Sudan. But editors have regularly complained of print-runs being seized, articles censored and journalists coming under pressure over sensitive subjects.
Ezekiel said the regulator was targeting the Sudan Tribune because of articles and editorials by three southern journalists accusing Khartoum of obstructing the 2005 peace deal.
"They (the National Press Council) said we need to change our editorial. They are not happy with the journalists working in the south," Ezekiel said.
Bol claimed a National Press Council officer had also phoned him, advising him to replace his managing editor who came from Darfur, the remote western region where government forces have fought rebel groups for the past five years.
"They said hiring someone from Darfur was very hostile, so how could they cooperate with us," Bol told Reuters.
Bol said he was served a warning letter last week that said the paper was concentrating too much on south Sudan and that its southern-accredited journalists were not recognised in Khartoum.
"They said we should move our head office back to Khartoum," he said. "Its nonsense and we're not going to compromise. The licence does not specify we stay in Khartoum.